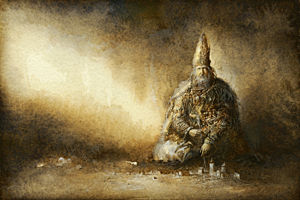 I have a place within where I go every day to open myself up to receiving and accepting abundance. Notice, I suggested not only receiving but having a willingness to accept anything is of key importance.
I discovered I had no trouble being open and willing to receive, or at least I thought this to be true, until I discovered there is more to it than just being open and willing! I discovered it often takes great courage to accept. More importantly, accepting help of any kind from another appears to be much harder than often times believed.
I always thought it much easier to pray my way through my desires and needs. After all, the entire universe is a huge, relatively unknown place and I believed that praying to it would get me what I asked for. So, why not ask the unknown. It certainly beats playing the lottery, and it is definitely a great deal easier than asking a stranger, friend, co-worker or relative!
The universe is full of magical things patiently waiting for our wits to grow sharper ~ Eden Phillpotts
But the truth is, when we are asking for material support it will only manifest through the support of others. Even emotions like joy and love are shared or given freely in the form of family and friends. We don't have to ask them for love we only need to accept their love.
Love is free, a gift. Things are usually traded and rarely are just given, or accepted, without tribute or consideration of some sort. So, it is important to understand how the material universe works, and more importantly, how the spiritual world operates.
Let us start with Merlin's Law of Consciousness. We all have heard the legends of the greatest magician that has ever been written about, Merlin Trismegistus, but we do not hear very much about his true wisdom, other than the lore of King Arthur.
Merlin knew there would come a time that we would cross a great divide and open up to a new level of reality, which would allow us to see beyond the consciousness illusion of time and emotion. Not just the idea of releasing the soul from the physical form, but more importantly, releasing the mind from limitations of the physical form. Merlin knew mankind would one day tap into the fifth dimensional tier of consciousness and become awakened to the knowing and not just the doing of a material universe. The great divide exists only in the mind, which believes that time is linear and the emotional tract is the soundtrack to time.
The Law of Attraction, and the understanding that we attract from a place of already knowing we have what we need, is the first step in this process, but it is equally important to step out of the linear or horizontal timeline of past, now and future into a the vertical tier of the present as happening on many levels simultaneously, both below and above our current thinking or 'now' about life. Instead of accepting we are moving along a line of past, now and future to create what we desire, we are also able to move from poverty to wealth, sickness to health or hate to love by simply stepping into a different level of consciousness represented by a new perspective on the multi-D game board of life.
I do believe it is possible to create, even without ever writing a word or painting a picture, by simply molding one's inner life. And that too is a deed ~ Etty Hillesum
The first step is the revelation that we already have all that we need. The second step it to know that we already have all we need before we need it, and to finally know that we have all that we need before we need it, and more than enough to share with others. Accepting this knowing can unlock the magical world Merlin suggests exists right here and now in our own lives.
I mentioned earlier that I have a special place within where I go every day to open myself to be willing and courageous enough to not only receive what I need, but to also accept each offering fully and gratefully. I call this very special place 'My Abundance Temple'. I imagine myself walking barefoot on a sandy dune near the ocean on my way to a special building that feels like home. I imagine myself going into this place with a feeling of peace and knowing.
Inside the room is filled with warm light and laughter. In every niche of the space there are friends and family, co-workers and special folks who have guided me on my path. There are also those that I have supported, loved and given of myself throughout life. We toast each other with golden cups filled with love, and give thanks for this extraordinary journey we are all sharing together. The salutations bring more laughter and sparkling eyes. All that I have ever needed and will ever need is fulfilled in the sound of the room.
When I return back from this world of my own imagining, I feel safe and loved. I know that I am generous with myself and with others. I am supported by the same love that is supporting all that I love. Importantly I know that whatever I believe to be true is only true for myself and not for anyone else. I know that if I need to change what I believe to be true I only need to know my life better than I believe it to be through a deeper understanding of gratitude.
Whatever we are waiting for – peace of mind, contentment, grace, the inner awareness of simple abundance – it will surely come to us, but only when we are ready to receive it with an open and grateful heart ~ Sarah Ban Breathnach
It has never been easy for me to accept help from anyone; it never seemed likely that they would be able to give me what I thought I needed. Life has shown me I was mistaken. All I ever needed was already available in the world I moved through every day, and abundantly available in the world that I did not know. My own limitations and the perception of what I did not have were the limitations which were holding me steadfast to my linear daily life. I was once told that all I would ever need was already available in my circle of influence. I understand that the larger my circle of influence and influencers the greater the abundance revealed.
The key for me was simple yet so far up the food chain of my thought process for so long. I discovered by stepping out of my comfort zone and accepting all levels of life as being part of my journey, that I could learn to love myself, eventually love life and ultimately discover life loved me back.
Merlin was so right on. The journey is only part of life, at least the journey I am having. The real imaginings of Merlin and his magical thinking are that life is a multi-dimensional experience happening on many levels at the same time, and that all we have to do is step into the level we want to play on to simply go vertically.
We must step out of our comfort zone and imagine we are more than we believe ourselves to be. We have to know it though, not just think it or feel it. Remember it is about knowing. It is about knowing that we have more than we will ever need and more than enough to share with others.
About The Author: Dr. Robert Pease, Ph.D. is an internationally recognized psychic intuitive, numerologist, transpersonal counselor, radio host, seminar leader and metaphysical teacher. Dr. Robert holds several degrees including a doctorate in Metaphysics and Counseling. An ordained minister, Reiki and Seichim Master Dr. Robert is the author of books and articles on Healing, Numerology, Addiction Recovery, Love Relationships, Reiki Instruction and practical applications of Psychic Gifts. You can get a reading from Dr. Robert Pease at PsychicAccess.com.