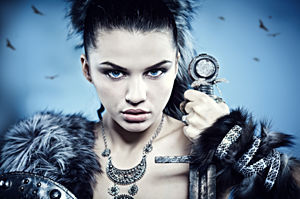 Every day we make choices. Sometimes if we stop and look at those choices, it will give us a good indication of our patterns. For example, we say we want to be happy, but do we then make choices that will bring us happiness during the day a priority?
Perhaps we say we want this or that, but then we put it last on the list for the day, or don't put it on the list at all. We can choose serenity over a boyfriend or girlfriend. We can choose peacefulness over fussing and fretting. We can choose quality time with our child rather than going out drinking. So sometimes, we are our own worst enemy with the choices we make each day. Often we do not see the patterns of our choices, and we cannot change something we do not see. This is when self-awareness must be developed. 
Psychics can often point out patterns that will heighten and illuminate our self-awareness. It takes an open mind to hear that information, because that information can be embarrassing or perhaps uncomfortable to hear.
Until you make the unconscious conscious, it will direct your life and you will call it fate ~ C.G. Jung
Remember psychics are not here to criticize; they have an interest in the growth of your self-awareness. If your ego is easily bruised, it is harder for a psychic reader to bring up some topics. Be open to having someone safe and objective with no personal agenda. A reputable psychic will pull up an issue from the dark corners of your psyche and shine a light on it so you can see into that corner.
If you get furious or upset, chances are the psychic is not wrong, but rather has hit a very sensitive nerve with you. Before you get mad, take a day or two to let the energy settle and look again to see if rather than being "wrong" that perhaps the psychic simply brought up an area of growth that is difficult for you to face. Self-awareness and growth take the courage of a lion; it is not for the faint of heart.
PsychicAccess.com.


Nonna lives in Southern California, and is a professor of psychology and a teacher of psychic development, energy work and meditation, who has recently finished her PhD. She has been a counselor for both humans and animals for thirty years, removing energy blocks through her expertise in the spiritual arts. She also has numerous years of study and practice with classic psychological therapeutic models, family work, twelve-step processes, nutritional and body/mind/spirit healing, complementary, alternative, and quantum medicine. Nonna is brilliant at unearthing the gems in every client's soul and polishing them to a fine finish. To release your own soul's sparkle, contact Nonna at