Why Should Grown-ups Be More Playful?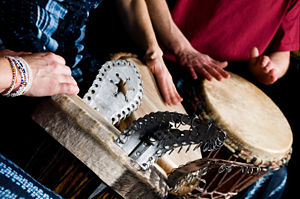 I find myself advising my clients to play more in order to move themselves out of feeling 'stuck' in their lives. I especially recommend this to people who are having serious financial issues because it lightens the load and it is usually either free or not very expensive to be playful. I also recommend this to couples who are not getting along because they usually are not having fun with each other anymore. This is not meant to be a simplistic remedy for complex issues. Advising people to remember to play is just one of the ways to get people back into the flow of life and out of the ruts we all fall into.
There are many ways to play that cost nothing. For example, if you live near a body of water you can skip stones and see if you can keep beating your own distance record. If you live near the woods you can collect wild flowers and place them between book pages in plastic to dry them and flatten them – they make wonderful book marks. Take your shoes off and wade in the water or mud.
Play keeps us vital and alive. It gives us an enthusiasm for life that is irreplaceable. Without it, life just doesn't taste good ~ Lucia Capacchione
If you live in the city, save bread crumbs and old popcorn and go feed the city birds and watch them as they feast on your kindness. Make paper air planes and see how far you can get them to fly. Start a drumming circle and let people make their own drums out of old oat meal containers. Make percussion instruments out of toilet paper rolls and paper towel rolls with rice or beans inside and seal them at each end to play along with the drumming.
There are additional forms of play that may cost minimal to moderate amounts and can be engaged in no matter if you live in the countryside or in the city. For example, take dance lessons or music lessons. Learn to cook food of another country. Learn to paint. Start making model ships or planes. Learn to make origami.
Being playful as an adult does not mean acting childish. It does bring out our inner child, however, but it need not be undignified. It means having joy, laughing, learning, doing things for the pure fun of it and for no good reason at all.
Play is one of the highest spiritual forms of being. When we're in that state, we get lost in ourselves, which allows the mind to receive the message of the spirit ~ Ellie Katz
Dr. Tian Dayton at the Huffington Post writes that when adults play it is "accompanied by smiling and laughter, and should also allow participants to control their onset and their offset in the activity. In other words, play is not forced, it encourages autonomy, spontaneity and creativity. Friends or couples who play together report feeling greater intimacy and closeness. And this sense of closeness develops at a faster rate than normal. Play bonds those who engage in it and helps to shake off tensions and aggressions that might interfere with work or relationships."
Dr Dayton also believes that adults should play more. "Almost every species of animal engages in some form of play," he writes. "Play helps all species, animal and human alike, to learn the adaptive behaviors that increase their chances of survival. But play can help us to 'survive' emotionally and psychologically as well."
I believe that play, joy and laughter are spiritual silicone that keep the dark from getting and keeping a hold on us!
About The Author: Heartlight

Heartlight is an "Empathic Coach" with a lifetime of developing of ESP. With 16 years of working as a Psychic Adviser, (the last 7 years of adding Life, Motivational and Relationship Coaching training into the mix), she maintains a very loyal following at PsychicAccess.com. She goes beyond simply sharing messages about things that are hidden from her clients awareness along with information she receives about their future. Heartlight also coaches her callers to use the messages that come through her empathic gifts for their own highest good by blending kindness, humor and wisdom into her readings. Get a reading today with Heartlight at PsychicAccess.com.