The Curious Kindness Of Strangers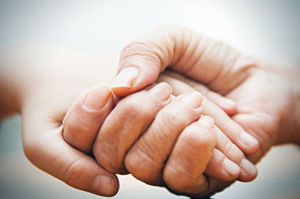 I used to have the notion that the way we would as humans become attached or bonded to each other was through our unique fingerprints, and the way we fit as people. To me, it seemed inconceivable that two people could share anything in common if they did not get on, share the same interests, or have that enviable chemistry we so mistake for romantic love. In my experience, and through the experiences of others, I noted that most of us seemed to lapse into these easier sets of relationships – the ones that seemed effortless and spirited, and based on this – that empathy deepened and that relationships had a better quality due to this shared agreement.
To my chagrin and delight I was introduced to a more interesting notion of bonding – this one not through just the pure transference of personality, common interests or passions – but values, shared experience, and shared suffering. We still identify with each other, whether we know each other personally or not.
Due to my work I have been exposed to thousands of people – and have had experiences of bonding with people I did not share any core interests with. What kept me interested in them was their failures, their insecurities and even their lapses in kindness – as if these gaps indicated only their greatest fears and not the intention of sheer neglect or cruelty.
It is my job to take a certain amount of someone's pain on – even if they direct it at me. I have now trained myself to see that child in people– and not judge it, simply appreciating that they need to express themselves. The child can be unruly – dangerous – but I have endless compassion for these sides in people.  I have become trained as an empath – which means to a good extent allowing myself to suffer for my clients.
The moments I love are when my clients have struggled with a truth – and when we can both disagree – and come to the same conclusion later. The thank you letters have always kept me afloat – and the many friends I have gained through my work has always kept me interested. Most of all – their personal failures are the most comforting to me – as if it was good to know we all shared the same common sins.
I had been used to the acquaintances of people through passions, intellectual interests and attraction – and was awakened to the kindness of people I did not know, may not have spent time with, or even share the same values with. What bonded us was common experience and often just direct eye contact and a smile through all my travels in life, a comment in a blog, or a chance meeting on a web page.
I was introduced to my clients' lives during times of trauma – and even if at moments one could feel their distrust, what I always have enjoyed and always will enjoy are moments of clarity. I have found I only take criticism very seriously of me when they are at their best in life – not at their worst, when they are apt to find many faults, often due to their own pain. It's not as if their entire selves needs to be present or perfect for me at once – nor I for them – but just the moments of kindness through instances of lucidity displayed their human selves long enough to make a difference, and we have always seemed to recognize and respect this in each other – a pact that we all innately seem to share regardless of circumstance or ideology.
In my work, I often have to evaluate a person's intent and ignore their action or inaction – the greatest moment of truth is not always what they do, but in their handling of their decisions – the pain, guilt or fear (and joy, intensity or truth) that is associated with making choices. What is their experience? Does it make them happy to take control or give it to someone else? What makes them fear power and success?  How do they process good or bad decision making? How will this affect future decisions? What is the potential they have learned from these experiences? Is there a willingness to learn despite making mistakes?
This is what defines a person – moment to moment – the kindness within a stranger, even a moment of anger, or sadness or fear that will reveal their true selves. I have found once this door is opened, there is no end to the depths of generosity one can feel from a disinvested soul. Perhaps they need a blank or neutral place to bestow their kindness? Maybe they can they trust for one moment, and risk abandonment because there is less to lose? Amongst all the bitterness, the sadness, the guilt in our world – I live for these moments – they come from the most curious of places, from the darkest little corners and the most tortured of people – true proof that we do transcend even from our shadow selves, even if it is just for moments at a time – beauty and clarity do come to the fore. This is what makes us happiest, even if we feel we have failed most of the time.
About The Author: Carmen Miro

Carmen's waking dreams have provided accurate glimpses into the future for celebrities as well as political and international figures. Her non-judgmental, Empathic approach, as well as her unique method of Tarot reading, affords her the reputation as a groundbreaker in her field. This European born Canadian is the first online psychic to promote the idea of Empathy and emotional thought transference, and she has written a great deal on the subject. For a comprehensive Intuitive reading that will transform your life, you can find Carmen at PsychicAccess.com.