Prayers For Protection During Psychic Readings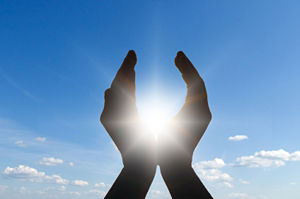 The following prayers are some of my favorites to use during psychic readings. The original authors are unknown. Try them yourself next time you get a reading from your favorite psychic.
Prayer A
The Light of the Divine One surrounds us
The Love of the Divine One enfolds us
The Power of the Divine One protects us
The Presence of the Divine one watches over us
The Spirit of the Divine one is within us
Wherever we are the Divine One is.
Prayer B
Highest God Level Guides and Relations
of all the Seven Directions come and be
with us. Guide us, protect us. Heal us.
Teach us. Use us as an instrument for your
good and peaceful work.
Prayer C
Great Spirits, Creators of All That Is, Please send to me
the most positive energy and light possible in this time
and space to watch over me and those I share this experience with.
Send to us the highest force or forces possible to keep us safe, focused and positive in our intent. In return we give thanks and gratitude, love and positive light for the universal good of all. Blessings be upon us.
About The Author: Heartlight

Heartlight is an "Empathic Coach" with a lifetime of developing of ESP. With 16 years of working as a Psychic Adviser, (the last 7 years of adding Life, Motivational and Relationship Coaching training into the mix), she maintains a very loyal following at PsychicAccess.com. She goes beyond simply sharing messages about things that are hidden from her clients awareness along with information she receives about their future. Heartlight also coaches her callers to use the messages that come through her empathic gifts for their own highest good by blending kindness, humor and wisdom into her readings. Get a reading today with Heartlight at PsychicAccess.com.