The Presence of Angels
Published
March 14, 2012
|
By
Steve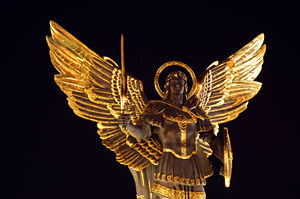 A US poll revealed that 75% of Americans between the ages of 18 and 25 believe in the existence of angels.
There are many documented cases of angelic encounters. Jodi Leary's young boy nearly drowned in a swimming pool. After resuscitation, he reported having seen an angel. Estal Vera was hit by an ice cream truck, only to see an angel appear by her side. Despite her serious injuries, she experienced no pain.
I was collaborating with angel intuitive and medium Michael Lott recently on a social networking page for public mediumship events. We talked about using a photograph of us together, but then realized that we don't currently have one, so we decided to use an image of Archangel Michael. A few moments later, both looking at our own profile pages, we found that we both had postings there from different sources about Archangel Michael.
Make yourself familiar with the angels and behold them frequently in spirit; for without being seen, they are present with you ~ St. Francis De Sales
During my radio show I once took a call from a wonderful lady named Sandra. During the reading, Spirit gave Sandra a message from Archangel Michael. Can you imagine who she had been praying to, while she was waiting to get through? Archangel Michael.
We have access to such incredible sources of information, healing, love, and support. Some time ago, I jokingly asked spirit during a meditation whether we really do have access to everything. The answer that I received was "Yes, try it". So, I laughed and responded "Ok, as I am doing some creative work next week, I would like Leonardo da Vinci's input."
That very evening, my cousin Kate came home from shopping. Can you imagine what she said? "I know that this is really random, but I was in a kid's store and decided to buy you this really cute toy of Leonardo da Vinci."
These anecdotes are simple reminders of the presence of angels and spirit guides, and how we can call upon them at times of need, reassurance, and inspiration. We are never alone in life.
About The Author: Steve

Born a medium, Steve is a member of the Spiritualist's National Union and a certified Angel Therapy Practitioner®. He has given public and private readings since childhood and has studied mediumship all of his life. Steve has amazed clients around the world with the accuracy of his mediumship and psychic ability. His private readings provide inspiring evidence from the spirit world combined with empowering spiritual guidance. One of Steve's greatest passions is helping people understand their personalities, life purposes, and greatest natural talents in order to define their dreams and create the future. Steve believes that we each have a unique life purpose combined with an innate set of talents and opportunities to make the world a better place. He is an avid believer in the law of attraction, the power of the subconscious mind and our ability to create whatever we choose.
Get a reading from Steve at PsychicAccess.com


Posted in

Angels, Lightworkers, Meditation, Metaphysics, Paranormal Phenomena, Psychic Phenomena, Spirit Guides, Spirituality, Technology
|
Tagged

angel, angel readings, Angels, apparition, archangel, beliefs, guardian angel, Healing, intuitive, intuitive consultant, Meditation, medium, near death experience, signs, Spirit Guides, spiritual messages, spiritual realm, Spirituality, synchronicity, unconditional love, visitations
One Response to The Presence of Angels
This site uses Akismet to reduce spam. Learn how your comment data is processed.