Coral Polge – World Renowned Psychic Artist
Published
February 25, 2012
|
By
Steve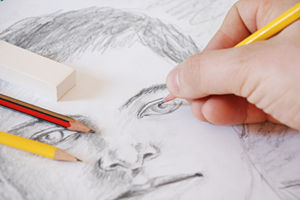 If you have read my blog posts before you will probably know that I am fascinated by evidence of the soul's continued existence. The presence, love and insight that we can receive from the spirit world never cease to amaze me.
I have been fortunate enough to receive more than enough evidence to substantiate my innate certainty that we are part of something much bigger. Nonetheless, I am always searching for more concrete evidence of mediumship and the afterlife to comfort and uplift others.
There is perhaps no better evidence of our loved ones' continued life in the spirit world than that provided by Coral Polge. Born in Britain, Coral was a world renowned psychic artist who drew astoundingly accurate artwork of spirit and travelled the world sharing her gift.
Coral learned of her exceptional talent when she was advised by a medium of her rare capability. Sometime later, just after the Second World War, she realized that the advice she had been given was true.
Your physical world, even your whole life can collapse, but does it matter? You are permanent, you are eternal, nothing can destroy the real you. And you are free to go on ~ Coral Polge
Audiences around the world were astonished and profoundly touched by Coral's work. Automatic spirit controls would take control of Coral's hand to guide her with accuracy and astounding results. Her portraits were renowned for their exceptional similarity with photographs of people that had passed to spirit and provided extremely strong evidence of life after death.
During her lifetime, Coral drew over 100,000 spirit portraits and made an enormous contribution to spiritualism. Along with many other great mediums, such as Gordon Higginson, Coral proved that one day, when the time is right, we are reunited in spirit with our loved ones.
About The Author: Steve

Born a medium, Steve is a member of the Spiritualist's National Union and a certified Angel Therapy Practitioner®. He has given public and private readings since childhood and has studied mediumship all of his life. Steve has amazed clients around the world with the accuracy of his mediumship and psychic ability. His private readings provide inspiring evidence from the spirit world combined with empowering spiritual guidance. One of Steve's greatest passions is helping people understand their personalities, life purposes, and greatest natural talents in order to define their dreams and create the future. Steve believes that we each have a unique life purpose combined with an innate set of talents and opportunities to make the world a better place. He is an avid believer in the law of attraction, the power of the subconscious mind and our ability to create whatever we choose.
Get a reading from Steve at PsychicAccess.com


Posted in

Afterlife, Lightworkers, Mediumship, Metaphysics, Paranormal Phenomena, Psychic Phenomena, Spirit Guides
|
Tagged

Afterlife, astral vision, automatic writing, channelling, clairvoyance, creativity, crossing over, etheric vision, famous psychic, ghost whisperer, medium, mediumship, psychic medium, psychic reading, Psychic Readings, reading, signs, soul, soul energy, spirit, Spirit Guides, spiritism, spiritual messages, spiritual realm, spiritualism, visions
One Response to Coral Polge – World Renowned Psychic Artist
This site uses Akismet to reduce spam. Learn how your comment data is processed.