All Creatures Should Accept Spirit's Great Program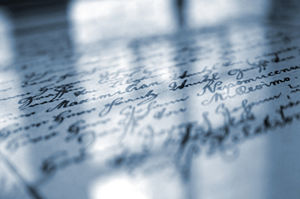 If you have not experimented with automatic writing, I encourage you to do so. This is the process of producing material that originates from the spirit world, rather than our individual consciousness. It is a great way to access and download poetry, music, philosophy, and all manner of beauty from spirit.
The following is an example of some automatic writing that I channeled at 10 years of age:
Just as sure as daylight breaks and dusk falls, the seasons change. They are cyclical, representing a constant and assured progression towards renewal and rebirth – an unquestioning and reassuring routine that governs all. Many do not question the linkage of natural order with all else in their lives; just as some do not appreciate the connection between their behavior and their fortune. 
Yet they are all connected – all is intrinsically linked and synchronized in an extensive and complex, but beautiful web of detail and activity.  The bird singing is a manifestation of a unique and intrinsic code that governs its tune.  Similarly, the birth of a child is a programmed progression towards growth, development of mind, body, and spirit whilst also an emblem of opportunity and excitement.
The great lesson is that the sacred is in the ordinary, that it is to be found in one's daily life, in one's neighbors, friends, and family, in one's backyard ~ Abraham Maslow
As the leaves fall and the wind blows, nature retreats to make way for hibernation and replenishment.  Yet, winter will always pass, and spring will break through enabling the growth of fresh flowers and new seasonal fruits.  Similarly, a soul departs to a higher plain and a child is born – its first cries a portent of Spirit's great program of change and advancement.
Those who accept Spirit's great and omnipotent program live in peace and harmony with their surroundings and circumstances.  They accept that certain elements are irrepressible; they strive forward, developing and changing just as the ocean fluctuates.
Just as the trees and animals adapt to the change of season, all creatures should accept and enjoy Spirit's great plan, trusting its virtues and synchronicity.
About The Author: Steve

Born a medium, Steve is a member of the Spiritualist's National Union and a certified Angel Therapy Practitioner®. He has given public and private readings since childhood and has studied mediumship all of his life. Steve has amazed clients around the world with the accuracy of his mediumship and psychic ability. His private readings provide inspiring evidence from the spirit world combined with empowering spiritual guidance. One of Steve's greatest passions is helping people understand their personalities, life purposes, and greatest natural talents in order to define their dreams and create the future. Steve believes that we each have a unique life purpose combined with an innate set of talents and opportunities to make the world a better place. He is an avid believer in the law of attraction, the power of the subconscious mind and our ability to create whatever we choose.
Get a reading from Steve at PsychicAccess.com


This site uses Akismet to reduce spam. Learn how your comment data is processed.