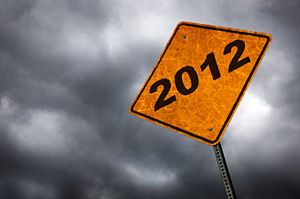 Numerologically speaking the year 2012 has absolutely nothing to do with the world coming to an untimely end. Many of us can recall about ten years ago the 'end of the world' was originally calculated to occur in 2112. It was a much more intriguing date due to the palindrome pattern, which can be construed as physically illustrating that "as it was in the beginning, so it shall be in the end."
A number of factors may have influenced the date change, but the most plausible and easily accepted theory is simple commercialism. Armageddon sometime sells better than sex (remember the Y2K Millennium bug panic?)
It was only recently that a private religious cult once again made international headlines by predicting and preparing for the Rapture that was to take place on May 20, 2010.  They had sold thousands of pieces of merchandise, took in thousands of dollars in donations and savings, and gained hundreds of followers. Whether it be fear, or hope for freedom from the mundane, the followers were willing to sacrifice their lives and their livelihoods for the cause. And we all know how that turned out.
The day the world ends, no one will be there, just as no one was there when it began. This is a scandal. Such a scandal for the human race that it is indeed capable collectively, out of spite, of hastening the end of the world by all means just so it can enjoy the show ~ Jean Baudrillard
In numerology 2012 roots to a 5, which means change – not to be confused with ending. And in this case, the principle change in question is actually focused on intimate relationships, not the Earthly condition.
The year ahead therefore promises to be a true transitional period for those seeking romantic partnerships. Singles will have a high chance of finding new partners. Those already committed may have the flexibility to fix what needs to be fixed, break what needs to be broken, or bond with what or who needs to be bonded with.
The key number to focus on is the 1 in 2012. It is between the 2s, representing your own voice, your own identity, and your own sense of self that will determine the success of you acquiring your needs.  The year 2012 further urges us to see the truth in ourselves and each other. We must take responsibility for our role in the condition of our relationships – for better or worse.
So, even though the promise of love, companionship, and compassion will flow all around you, you'll still need to crack down on your trust, intimacy, and commitment issues before you're forced to do so. Many of us forget that relationships take work and communication to be successful. And you can't do that if you can't 'walk the talk'.
Also, keep in mind that sometimes what we want may not necessarily be what we need. The year 2012 will also remind us to take care and beware of what we ask for. We may be hopelessly in love with that person we "just know is our soulmate or twin flame", but that doesn't necessarily mean our hearts know what's best for us – particularly if that person is unavailable.
Many believe that the dawning Age of Light or Age of Consciousness defines itself in relation to our capacity for unconditional love, our ability to transcend enemy patterning and victim consciousness while adopting unity consciousness that sees divinity in all things. From this standpoint, it might be said humans are evolving into a "biologically conscious" species capable of holding and sharing the full light of unconditional love ~ Sol Luckman
Feelings are one thing, but intent is another. You may feel a connection, but if the person on the other end of that connection is avoiding, hesitating, giving mixed signals, or unwilling to manifest a relationship in a satisfactory way, you're setting yourself up for unnecessary pain.
This year marriages and domestic partnerships that have been challenged will have a sporting chance to overcome those challenges and finally heal, whereas those partnerships hanging from a thread over a prolonged period of time may finally break.
The New Year also brings new friendships, and adoptions (human and otherwise) can enjoy new homes and circles.
Business relations will take on a much more intimate angle in sales and service this year. More companies and service providers will realize that taking care of the customer's needs brings much more lasting posterity for the highest good, therefore accelerating their bottom line. Same will also be true as more employees become more fearless and less tolerant of hostile and underappreciated work environments.
Though, it may not be the end of the world, as some have come to fantasize or fear, it very well can be the end of our own, personal world as we have known it.  Nothing can change anything faster or better than Love.
About The Author: Augra is a Master Tarot Reader, living in Texas, and is a member of The Tarot Professionals Group. She's provided divination services to other Tarot readers, and has instructed many who have gone on to become talented professionals themselves. She is also an expert in many areas of parapsychology, including: dream interpretation, past life regression and khundalini. Her clairvoyant and empathic skills are powerful, especially when combined with her expert use of Tarot and numerology. For a detailed reading from this sensitive and compassionate reader, go to PsychicAccess.com.


One Response to "What To Really Expect For The Year 2012"