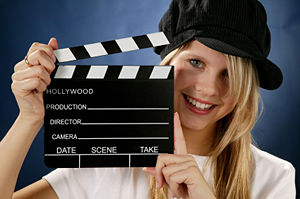 How much are enjoying making your movie?
Joy is the emotion evoked by well-being, success, or good fortune or by the prospect of possessing what one desires.  Joy is a state of happiness that comes from knowing that all is perfect in your world.
Joy unfortunately is attached to perfectionism, which is unattainable instead of perfection, which is exemplified in excellence. If you are not in a state of Joy through the journey of your Life purpose it is because you are holding perfectionism in your god box whether you know it or not!
Joy is choosing your feelings every step of the way. It is taking responsibility for what you feel and how you think about it.
Joy is the barometer of Self-Love.
Movies are art and the spirit of the movie depends on the creators ~ Lloyd Kaufman
I have spoken a lot about setting your Intentions and setting only the ones that allow you to feel good. The feeling good is feeling true. The creative process allows the thoughts to float on feeling true and be directed by intelligence in the grounded vision of faith and focused in the Heart. Joy is what you feel in the application of the journey to manifesting the Purpose.
You can feel good about what you desire but it doesn't stop there within the Law of Attraction, it will only be received for your best and highest good when you are able to feel the gratitude of Joy in the acceptance of the Gift. Even when the Gift is a Lesson created from past desires from your Universal Journey, Joy allows you to receive all Gifts without judgment and attachment.
Joy is the art of detachment.
Detachment is freedom from bias or prejudice. Accepting Joy detached is receiving all Gifts without bias or prejudice. It is why when I ask people if they are finding Joy in their world they tell me,
I am too busy to be joyful. How do I have joy when I don't even have time for myself?
Exactly what do you mean by joy?
How can I be aware of how I feel all the time?
In the movie of My Life, the only reason there is dramatic scenes is because they are placed there for effect. What would happen to your movie if you took out the drama?  Without drama could life be interesting?
Don't postpone joy until you have learned all of your lessons. Joy is your lesson ~ Alan Cohen
Drama is a state, situation, or series of events involving interesting or intense conflict of forces.
Drama is conflict.
There is drama in life because humanity stays in a constant state of conflict. There is drama in your life because of inner conflict. As long as there is inner conflict there is a dramatic scene in the making.
Joy is knowing life need not be hard.
Directing With Joy.
Everything in our life is what we create, whether it be drama or joy, hardship or effortless. Everyone who is part of our personal universe, we have attracted to reflect what we need to understand about why Who We Are is what we are creating. If we feel limited then we are limited. If we feel abundant then we are abundance expressed.
It is difficult sometimes to understand why any lesson has been attracted in the first place. It is because we have attracted it from a limited understanding of what we can receive. All quantum leaps of faith are created by first changing how we feel emotionally. Everyone in our life is there to reflect what changes are required to be made. We attract energy to change our vibration. The better we feel the higher the change will occur.
One of the great things about being a director as a life choice is that it can never be mastered. Every story is its own kind of expedition, with its own set of challenges ~ Ron Howard
In the application stage of making your movie it is a time to place a director who is looking after your best interest. Often the position is given to other people out of a need to not hurt their feelings. At other times it is given to people because of being unable to be responsible enough. But the Free Will has many choices in casting the role of director. And the Dangerous Mind believes that no one can make the movie better than itself. Who else can know what your purpose is than you? Well if this is true, why are there so many lessons and so much responsibility and burden?
The best director for your movie is your Soul.
Higher purpose is always something you Love. The Higher-Self knows your Higher Purpose and is the best director you know. It is just a matter of surrendering to what you feel in your Higher-Self and allowing Divine Will to manifest what in Truth you desire.
Once you have moved from a place of Trust it is time to allow your Higher Director to shoot the movie.
After all, the time has been spent in pre-production getting everything ready for the best possible movie so why settle for anything less than the best possible director? Now it is time to enjoy the making of your movie. It is time to allow the Universe to apply all the tools of the trade, all the experience and all the fun. Now is the time to have fun with making your movie every day. This is the best part of co-creating; you get to do it with your Higher-Self!
Who is directing your movie?
Creativity comes from awakening and directing men's higher natures, which originate in the primal depths of the uni- verse and are appointed by Heaven ~ I Ching
We all are required to ultimately take responsibility for what we have created in the past. Understanding that all past desires will manifest, but remaining detached emotionally is the key to not reacting emotionally to what has been created.
Take responsibility for the creation and then let it go with Love. This insures how you feel today will vibrate with what you desire to manifest in the future. The more you tap into the Joy of the experience in application today, the greater the excellence of your movie.
Joy rides the wave of your Higher Self.
Joy only vibrates in perfect justice. Perfect Justice is the Law of Right Action, the highest vibration in equity with the best and highest good and Divine Order.
Every day you make a conscious effort to tap into Joy, the more you will desire nothing less than Joy. In the application stage of creating your purpose it is important to understand it is not what you do in your movie, but who you are in your movie. Applying all the steps you have made up until the first day of shooting is the foundation you can Trust to make and finish the purpose of what you have intended. Whether it is a small scene, an indie or the movie of your life, the journey is the fun part.
Having the opportunity to play with all your guest stars, supporting cast and your crew, not to forget the incredible director you have hired is what you are wishing to do. With each small movie manifests Understanding, Wisdom and Purpose. Imagine what the movie called My Life will manifest!
From Spiritual Bootcamp: This Is Your Wake Up Call by Dr Robert Pease © 2008
About The Author: Dr. Robert Pease, Ph.D. is an internationally recognized psychic intuitive, numerologist, transpersonal counselor, radio host, seminar leader and metaphysical teacher. Dr. Robert holds several degrees including a doctorate in Metaphysics and Counseling. An ordained minister, Reiki and Seichim Master Dr. Robert is the author of books and articles on Healing, Numerology, Addiction Recovery, Love Relationships, Reiki Instruction and practical applications of Psychic Gifts. You can get a reading from Dr. Robert Pease at PsychicAccess.com.