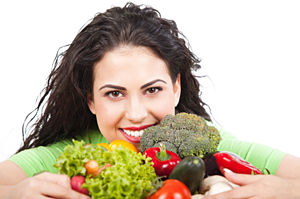 We greet you, Sons and Daughters of our Hearts.
First allow yourself to let go of everything you have been taught to expect about the food you ingest into your physical body. Food externally represents all of the different types of energy that is available to you to feed the aspects of you that are out of balance, or low on fuel.
Based on the above premise, it then follows that the smell, taste, texture, appearance and nutritional benefits of food are representative of only one thing: varying degrees of energy vibration.
It is very difficult to explain to you the complexity of energy, when your mental perspective is trained to be so linear. Energy is alive and active. It can also be infused with intent, which results in the energy obtaining a 'will' or 'direction' of its own.
Did you ever stop to taste a carrot? Not just eat it, but taste it? You can't taste the beauty and energy of the earth in a Twinkie ~ Astrid Alauda
Our aim in giving you this information is so that you will make better choices about food. You should begin to look at what you ingest specifically for its inherent properties. Think about what it represents to you, so that you can then become aware of what areas of yourself are out of balance – really out of balance as opposed to focusing on your cravings for what you already have too much of in your system!
Everything has its own vibration. The vibration of substances that you ingest into your system will have the effect of changing the vibration of your whole system – sometimes in very complex ways.
We would like you to begin looking at the degree of density versus lightness, keeping the thought in mind that as you ingest a substance your system will incorporate that vibration into its own vibration. The reaction caused by the effect of that incorporation, or blending of energies, will then create a reaction of its own. This ultimately has a similar effect on all of your other bodies – emotional, mental, spiritual.
Far more indispensable then food for the physical body is spiritual nourishment for the soul. One can do without food for a considerable time, but a man of the spirit cannot exist for a single second without spiritual nourishment ~ Gandhi
So, at whatever level you take on outside energy – be it emotional energies via an emotion-charged situation; spiritual energies via meditation or channeling; mental energies by ingesting new knowledge through study or research; or physical energies via a food substance ingested – consider that this exposure or taking on of energy will affect your whole vibration.
In Love and Light,
The Nine
Channeled by Krystal from a group of guides who call themselves 'The Nine'

About The Author: Krystal is a Direct Reader, receiving channeled information from guides who call themselves "The Nine." Her clairvoyant, empathic and telepathic abilities to connect with others is not limited to people, but also includes the animal kingdom, as well. She has read for many notable personalities, including Mrs. Zales of Zales jewelry, but keeps her list of celebrities confidential. Her work with channeled writing is so accurate, she has amazed her clients with the depth of detailed information she provides. For a reading with this lovely and compassionate California psychic, go to PsychicAccess.com