Think Twice Before You Act
Published
January 10, 2012
|
By
Asherah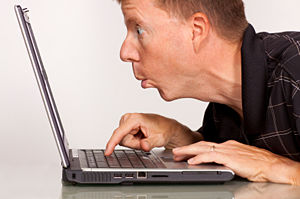 I often meditate to cleanse myself of leftover psychic energy accumulated after a long week or two, or even after a long day of doing readings.
When a reader reads for someone they are not only reading for that one person, but also for everyone involved in that person's question or thought process. Thus, after doing several readings a day you can imagine the energy build-up.
One question always comes to me during these cleansing sessions: "Why do some people not listen? Why do some souls choose only to hear what they wish to hear? Why ask for guidance when they don't truly care about what Spirit has to say?"
Preconceived notions are the locks on the door to wisdom ~ Merry Browne
I have yet to receive an answer, either from Spirit or from any living person. So I ask you – why? Why does someone choose to get a reading, only to hear what they want to hear and not truly listen to what the reader is conveying to them?
Sadly, this lack of openness to spiritual messages even goes as far as the client trying to lead the reader into answering very private questions about another person they hardly even know. They may have just met this person – they may have crossed paths for one brief instant – why wouldn't they allow that magic to develop naturally, as opposed to prying into a person's personal life to try and find out all about them? You lose something inherently personal when you do this – your mind!
I've seen many potential relationships fall apart because of inaccurate assumptions and premature actions. I've witnessed people getting a reading and then going the complete opposite direction – only to return later and question the reading they originally received.
Adopt the pace of nature: her secret is patience ~ Ralph Waldo Emerson
If someone's reading suggests that they allow a short amount of time to pass, before contacting the new person in their life, why would they immediately run to the nearest computer to say hello via an email? I'm not sure why someone would do this to themselves. I've seen so many instances of people doing what they shouldn't do, thereby bringing suspicion or tension into a romance that has barely had any time to grow – much less take root.
We have to let time take its course. We have to allow our minds room to detach itself from the perceived outcome of a reading, and allow the true outcome to occur on its own accord.
Always ask yourself if you really should place that call to your new love interest? Is right now the best time to send a seemingly incongruous text message to a new friend? What are you doing it for? What are you expecting in return – because that is the true kicker. If you do any action because you are expecting a certain result, be prepared for possible disappointment.
Think twice before you act. Some things need to happen naturally.
About The Author: Asherah

Asherah is a natural born psychic empath born and raised in Kingston Jamaica. An ordained Reverend and High Priestess, Asherah can easily tap into your real truth and help you to see clearly, releasing attachment to outcome by simply focusing on where you are now. Using tarot, numerology astrology and more..you can learn how to communicate your needs today! You can get a psychic reading from Asherah at PsychicAccess.com.


Posted in

Divination, Love & Relationships, Meditation, Psychic Readings, Self-Help, Spirit Guides
|
Tagged

advice, boyfriend, cleansing, clearing, communication, energy, girlfriend, guidance, Law of Allowing, Law of Detachment, love, Meditation, partner, predictions, psychic clearing, psychic predict future, psychic reading, Psychic Readings, reading, relationship, romance, Spirit Guides, spiritual advisor, spiritual awareness, spiritual counseling, spiritual messages, Spirituality
2 Responses to Think Twice Before You Act
This site uses Akismet to reduce spam. Learn how your comment data is processed.