Living A Small, Valuable Life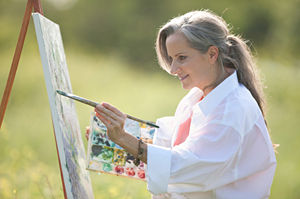 In my younger years I was very impressed by people from the past who left a big mark on history as well as people in the present who were living lives of fame and fortune.  I spent most of my younger years believing that I had to grow up and become someone like these people whom I idolized or my life would be less than successful.
But, I was also raised in the Mennonite Church of the Brethren and understood Christ's message about living unattached to ' things'. And then in my teenage years discovered Buddha's teachings about living simply.
Through the years I pushed myself with my gifts of writing music and poetry, drawing and painting and tried to become a singer-songwriter and well-known artist.  And through the years I read more and more about the Buddha and about the messages of Christ.
To find the universal elements enough; to find the air and the water exhilarating; to be refreshed by a morning walk or an evening saunter… to be thrilled by the stars at night; to be elated over a bird's nest or a wildflower in spring – these are some of the rewards of the simple life  ~ John Burroughs
Then at some point in the last ten years it came to me: I can live a small valuable life and keep creating at the same time.  I began living the ideal that letting go of the results of being creative deepens the experience of being inclined to create. I discovered that the simpler my life was the calmer and more purposeful it became.  And I discovered the paradox that living a small, valuable life gives me big rewards.
To this end: I do not buy a lot of new things like I used to; I keep a lot less clothes and shoes and purses in my closet than I used to; I do not compare my life to the successes of others like I used to; I find more joy in the simplest things like a cup of coffee than I used to; I don't force myself into taking on more than I can do like I used to.
Because of the choice to live a small, valuable life that I make every day… I live life with a big sense of joy and a profound sense of gratitude… and I like my life.
About The Author: Heartlight

Heartlight is an "Empathic Coach" with a lifetime of developing of ESP. With 16 years of working as a Psychic Adviser, (the last 7 years of adding Life, Motivational and Relationship Coaching training into the mix), she maintains a very loyal following at PsychicAccess.com. She goes beyond simply sharing messages about things that are hidden from her clients awareness along with information she receives about their future. Heartlight also coaches her callers to use the messages that come through her empathic gifts for their own highest good by blending kindness, humor and wisdom into her readings. Get a reading today with Heartlight at PsychicAccess.com.