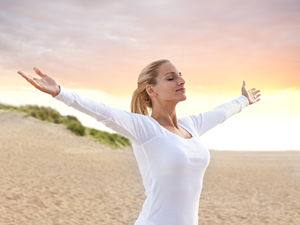 We are all connected to a higher power and also to one another. And when we have a good connection to that source of power or energy, the sky's the limit!
When we are one with the Universe we can accomplish a great deal in our lives. But sometimes that connection can become murky, causing us to feel hopeless or depressed, or we just feel 'out of sync' with everything. This is usually a good indicator that we are not following our true path.
Don't worry, we all feel this way sometimes. All we have to do is ask the Universe to cleanse our soul's connection and allow the proper knowledge to come through clearly.
It is also very important to be willing to follow the path that the Universe lays out for you. Usually we have a pretty good idea about what direction we are supposed to take, but sometimes we lack the confidence to follow through with it.
Joy is an attitude; it is the presence of love – for self and others. It comes from a feeling of inner peace, the ability to give and receive, and appreciation of the self and others. It is a state of gratitude and compassion, a feeling of connection to your higher self ~ Sanaya Roman
You will know when your soul connection has been cleansed, because you will get a sudden surge of positive energy and it will feel like you have been reborn. It's basically a recharging of your mind, body, and soul. It may take a day or two after you have asked, before you actually feel it, but be patient, it will hit when you least expect it. Just give it a try.
About The Author: Aaron is an international psychic advisor, clairvoyant seer, and psychic healer based in The United States. Aaron has worked for over 10 years as a professional psychic and has given over ten thousand readings in that time. He is also a singer, song writer,musician and is currently playing with the band 'Urban Bleu', which he co-founded in march of 2007. You can get a psychic reading from Aaron at PychicAccess.com