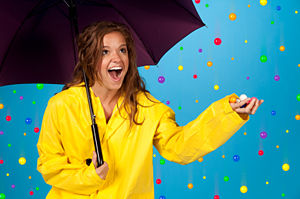 Psychic readings are like weather reports. We cannot control the weather, but we can adapt and plan around the weather.
If we know rain is coming, we can plan to stay indoors, or go out in rain gear, or go out to play in the rain.
We change our plans and expectations based on what is coming, so we are not taken by surprise, and we can find ways to have fun or relax, no matter what.
It is harder to take this position when we are asking about love, or finances, or career. Suddenly our lightheartedness can become obsessive, or demanding. Why can't we have what we want, instead of the weather that is coming in…darn it!
What is not brought to consciousness, comes to us as fate ~ C. G. Jung
Learning what is coming in our direction during a psychic reading can help us towards greater serenity. But it can also cause pain for those who want what they want. Rather than wanting what Spirit, or Soul, or Higher Self wants, we are then like a demanding child in a candy store. We can sometimes be like little children with Spirit. We want our candy, and spirit is trying to get us to eat our organic fruits and vegetables.
Surrender and acceptance – be it the weather or karma – can give us joy, serenity and contentment that we cannot begin to imagine. Spirit can supply messages and solutions that are miraculous, but we need to create the space for Spirit to come in and do the work. We need to get out of the way. Thy will be done, not mine.
Psychic readings can help us focus on Thy will, instead of My will.
PsychicAccess.com.


Nonna lives in Southern California, and is a professor of psychology and a teacher of psychic development, energy work and meditation, who has recently finished her PhD. She has been a counselor for both humans and animals for thirty years, removing energy blocks through her expertise in the spiritual arts. She also has numerous years of study and practice with classic psychological therapeutic models, family work, twelve-step processes, nutritional and body/mind/spirit healing, complementary, alternative, and quantum medicine. Nonna is brilliant at unearthing the gems in every client's soul and polishing them to a fine finish. To release your own soul's sparkle, contact Nonna at
2 Responses to "It's A Weather Report, Not A Candy Store"