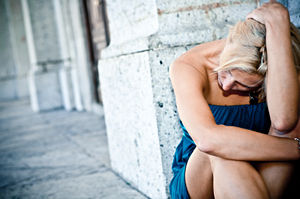 Times are hard for everyone right now, but when our circumstances become challenging we should also look at the good things in our lives, instead of focusing on the negative. I am also guilty of letting life's challenge's get to me from time to time.
Have you ever heard the Rolling Stones song You can't always get what you want? If we try to remember that we always get what we need and are never given more that we can handle, our lives would be a lot simpler and much less stressful.
Sometimes it's hard to accept that things always work out for us, as long as we work through whatever problems we are faced with. It may not be easy to believe, but it is very true. Think about it. How many times have we been in a bad situation or had to deal with an issue in our life that seemed impossible to overcome, but somehow it always seems to works out.
What seems to us bitter trials are often blessings in disguise ~ Oscar Wilde
We are here on Earth to learn from both the positive and negative experiences and, believe it or not, we all chose to go through these experiences and life lessons to become wiser and stronger as souls.
There is one thing that we can count on in life, namely that is we all have problems – no matter how hard we try to avoid them. But the next time you are hit with the less pleasant realities of life, just try to breathe and remember that this too shall pass. Try to think about all of the things that you do have and not what you don't have. Count your blessings. I'm sure that you will find a lot more good things than bad.
About The Author: Aaron is an international psychic advisor, clairvoyant seer, and psychic healer based in The United States. Aaron has worked for over 10 years as a professional psychic and has given over ten thousand readings in that time. He is also a singer, song writer,musician and is currently playing with the band 'Urban Bleu', which he co-founded in march of 2007. You can get a psychic reading from Aaron at PychicAccess.com


2 Responses to "This Too Shall Pass"