Divining The Psychic Stereotype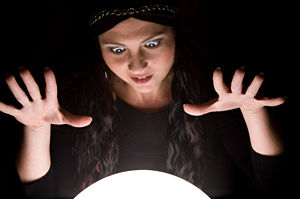 The other day someone I worked with commissioned me to do some work for them, and made the assumption that people of my caliber, or people in our profession, are associated with some power or arts of a darker origin.
He meant it as innocently as possible, and I hearkened back to the middle ages. But I have to remind myself that not everyone is familiar with what a psychic is.
To be psychic means, literally, from the Greek, 'mindly' or 'of the mind'. This is interesting as it seems to hint at previous thinking having not been superstitious, but possibly appreciative of the power of the mind. The connotation becomes difficult when it is associated with power.
When you look at power, historically, you will find countless movements against it. Primarily, larger powers have always focused on taking the power away from the individual, and in many instances applying an evil connotation to people who make decisions away from the norm.
Preconceived notions are the locks on the door to wisdom  ~ Merry Browne
I will not pretend it is not frightening at times to have a window onto worlds that I find confusing, mesmerizing and a gift to me, but for the most part I give my power up to this other state of existence, and do not try and harness it.
I have also had more negative experiences with humans, being by far the most demonic at times, than any dreams I have had, visitations I have had, or visions I have seen. I would have to think, logically as a conclusion, that should I wish to be completely 'good' and saintly' and 'evil-free' that I would have to abstain from hanging out with them!
Basically, think of us psychics as one of the most browbeaten, demonized and feared free-thinkers there are, because it takes a tremendous amount of courage to stand up to religion, or the state, or radicals who abuse peaceful ideals.
To be ignorant of one's ignorance is the malady of the ignorant ~ Amos Bronson Alcott
I must admit, when I am out some days my psychic self has learned to accept that many of us are the embodiment of some evil, at some point in our lives, for some time, and that some will not find anything else, because they are too fearful to accept that power can be attained by being good. I have not had to invoke one demon, or utter one prayer to feel people's feelings or to succeed in life, or to move beyond illness, or misfortune.
My psychic ability is innate, instinctive and biological, and by my own right. It has offered me the power of superior survival. I listen now to everything I have a hunch on, every dream I have, and every card I read, no matter how difficult it is. And should there be no cards to read from, nature will divine a way for me to see/ I cannot in my good conscience, accuse nature of having evil intent.
I do know of 'psychics' who like to use this stereotype to intimidate, gain power, or make money off of other's suffering, but these days I would be hard pressed to find many powers now, corporate or individual, who cannot say the same thing.
© Carmen Miro 2011
About The Author: Carmen Miro

Carmen's waking dreams have provided accurate glimpses into the future for celebrities as well as political and international figures. Her non-judgmental, Empathic approach, as well as her unique method of Tarot reading, affords her the reputation as a groundbreaker in her field. This European born Canadian is the first online psychic to promote the idea of Empathy and emotional thought transference, and she has written a great deal on the subject. For a comprehensive Intuitive reading that will transform your life, you can find Carmen at PsychicAccess.com.


One Response to Divining The Psychic Stereotype