Spiritual Puzzles
Published
October 4, 2011
|
By
Steve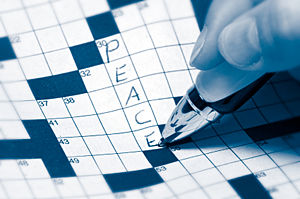 Messages from the spirit world come in many forms. The more we become aware of the spirit world's methods of communication, the more insight and guidance we receive in life.
My grandmother passed to spirit just as I was considering relocating from the UK to the USA, so I asked her to give me a sign during my first trip to the States, if she felt that the move was a good opportunity for me.
Just after landing in Tennessee, I passed through customs, collected my suitcase and took a cab. Driving away from the airport, just a mile down the road, I was shocked to see a broken Brampton hotel sign. As we drove past, I was staggered, but very comforted to see my name 'Frampton' lit up for my arrival in the new home town of my choice. Looking up to the stars I said, "Thanks Nana, I know I asked for a sign, but it didn't have to literally be a sign!"
Recently, my sister's partner fell ill with appendicitis, just before the birth of their new daughter. My mother asked for confirmation from the spirit world that he would receive the treatment that he required and recover well in time for the birth. Moments later, my stepfather entered the room to show her a crossword puzzle. The solution to the last clue was "Vera" – my grandmother's first name.
Puzzles are like songs. A good puzzle can give you all the pleasure of being duped that a mystery story can. It has surface innocence, surprise, the revelation of a concealed meaning, and the catharsis of solution ~ Stephen Sondheim
My grandmother often synchronistically appears in the family's crosswords, to provide confirmation that she is present and taking care of the family. Even my highly skeptical stepfather talks of these occurrences. Just before my grandmother's passing, my mother asked for her father to draw close from the spirit world. Moments later, my stepfather appeared with another crossword. The solution to the final clue was "Cyril" – my grandfather's name.
As I was writing this blog about the innovative methods spirit choose to communicate with us, my stepfather entered the room with another crossword. One cryptic clue was: "rode off after this man to find a docker". The answer: "Steve". The next clue was: "called in a medium to grasp the answer".
Open yourself up to the spirit world's exciting and innovative forms of communication and you will receive regular guidance to help you and your loved ones make the right decisions in life.  We are never alone.
About The Author: Steve

Born a medium, Steve is a member of the Spiritualist's National Union and a certified Angel Therapy Practitioner®. He has given public and private readings since childhood and has studied mediumship all of his life. Steve has amazed clients around the world with the accuracy of his mediumship and psychic ability. His private readings provide inspiring evidence from the spirit world combined with empowering spiritual guidance. One of Steve's greatest passions is helping people understand their personalities, life purposes, and greatest natural talents in order to define their dreams and create the future. Steve believes that we each have a unique life purpose combined with an innate set of talents and opportunities to make the world a better place. He is an avid believer in the law of attraction, the power of the subconscious mind and our ability to create whatever we choose.
Get a reading from Steve at PsychicAccess.com


Posted in

Afterlife, Lifestyle, Mediumship, Paranormal Phenomena, Spirit Guides
|
Tagged

affirmations, Afterlife, choices, communication, decisions, guidance, medium, mediumship, psychic medium, sign, signals, signs, Spirit Guides, spiritism, spiritual messages, spiritual realm, spiritualism, synchronicity, The Other Side, words
One Response to Spiritual Puzzles
This site uses Akismet to reduce spam. Learn how your comment data is processed.