Death Or Transformation?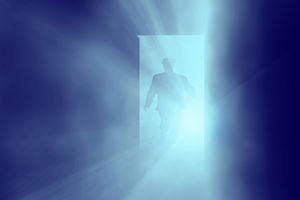 Sometimes we all get so busy pursuing our work that we forget the value of the current moment.
I, for sure, don't set the best example of work-life balance, but I am learning each day from clients – here on earth and in the spirit world – how important it is to appreciate what we have now, rather than always striving towards the future.
One of my greatest life lessons is learning to be present for myself and the people that I love.
I remember a wise friend once sharing a well-known quote with me: "the past is history, the future is a mystery and now is a gift – that's why we call it the present". I don't recall where this wonderful quote originates, but I love it.
I have realized that the past and future are real illusions, that they exist in the present, which is what there is and all there is ~ Alan Watts
I spend all day, every day, working with people who are searching for comfort. They are looking for the truth and light, amidst the clouds and challenges of their lives here on Earth.  Often they are searching for evidence that someone they have loved continues to exist. It is my great honor to work with the spirit world to prove that that there is no such thing as death.
The thirteenth Tarot card is Death, but its significance is actually 'transformation'. When we pass from this life to the next, we undergo a transition – a passage into a blissful world and a higher state.
The lessons of life can be tough. We come to this planet as it is easier to fully experience oneself. I hesitate to use the plural 'ourselves', as I know that we are one. When we feel offended or angry with another person, it is because we see something that we must address in our own development. We are here to grow stronger, to become greater, and to transform.
As I reflect on my personal and professional year to date, I recall the number of times that people have said: "I wish I had behaved differently", or "I wish that he knew how much I loved him".
Feeling appreciated is one of the most important needs that people have. When you share with someone your appreciation and gratitude, they will not forget you. Appreciation will return to you many times ~ Steve Brunkhorst
I recently lost a great friend and partner, not to the spirit world, but because of perceived incompatibility and an inability to evolve beyond each other's dysfunctional behaviors. The end of any relationship – whether to spirit or within this physical world – is a great bereavement. My guides say that our bereavement should be replaced with gratitude for transformation and a recognition that, as one great spirit, we cannot and do not lose anyone. We simply transform and evolve.
Whether you mourn the loss of a friend, colleague, family member or lover, offer yourself healing with the knowledge that we are one, and that one can never lose oneself. Also take a moment to express gratitude and compassion, and express a willingness to listen, compromise and truly hear each other. Value what is so precious now, because tomorrow it may transform.
I felt really uplifted this afternoon by a beautiful story about a Royal Air Force pilot who received wonderful evidence of his friend's continued existence in the spirit world. It reminded me of a conversation with a lady at the local mall, who looked at me and said that she had lost her husband.  My guides' response to her was immediate: "You have not lost George and never will". Her eyes welled up with tears, and then she smiled with relief and asked "How do you know his name?" My response: "I just listen".
About The Author: Steve

Born a medium, Steve is a member of the Spiritualist's National Union and a certified Angel Therapy Practitioner®. He has given public and private readings since childhood and has studied mediumship all of his life. Steve has amazed clients around the world with the accuracy of his mediumship and psychic ability. His private readings provide inspiring evidence from the spirit world combined with empowering spiritual guidance. One of Steve's greatest passions is helping people understand their personalities, life purposes, and greatest natural talents in order to define their dreams and create the future. Steve believes that we each have a unique life purpose combined with an innate set of talents and opportunities to make the world a better place. He is an avid believer in the law of attraction, the power of the subconscious mind and our ability to create whatever we choose.
Get a reading from Steve at PsychicAccess.com