Going With The Flow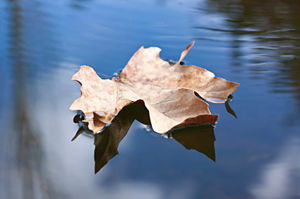 My best times are those in which everything seems right with the world. I notice my surroundings and see details that I've never noticed before. I see each day as a new opportunity. I am optimistic. I am happy. I am cheerful. I am going with the flow, knowing that it will take me to my goals.
All of us have also had periodic episodes of that 'all is not well' feeling. But what if you could replace the worry, depression, doubt and fear with a true belief that a better outcome is available?
By becoming alert to Universal energy, you realize that there is always a flow between you and the objects of your worry and doubt (or your joy and happiness). It works like a fire. If you cut off the oxygen supply, the fire will die. The energy has stopped flowing. But, if you feed the fire with oxygen (energy), it will continue to burn until other conditions come into play.
Of course there is not formula for success except, perhaps, an unconditional acceptance of life and what it brings ~ Arthur Rubinstein
This exchange of energy occurs in every facet of our lives: work, family, career, home and time, as well as relationships between humans and pets. How we perceive these events is colored by our thoughts.
The best way to appreciate events is with objectivity—by going with the flow. For example, suppose you are in a stressful work situation. Break the situation into smaller segments. Let's say there is a meeting. Your boss criticizes you in front of your peers. Immediately you think this means he doesn't like you and you will be fired… and then you'll have no money… and then you'll be homeless…and pretty soon this downward spiral creates unbearable anxiety and fear – even panic – and you start to believe this is the inevitable outcome.
To an extent, this is a completely normal reaction. It's what you are going to do next that determines the outcome.
Life is a series of natural and spontaneous changes. Don't resist them – that only creates sorrow. Let reality be reality. Let things flow naturally forward in whatever way they like ~ Lao Tzu
Suppose you are sitting in the meeting in a different frame of mind. Suppose you are now in the Universal flow, and you've just finished thinking about the downward spiral as a result of your boss's comments. Because you are in the Universal flow, you realize that some of what he says is true, and some isn't.
You focus on what you can do about it, realizing your survival has now to be Number 1 on the list. You revise your résumé, and begin to research other more positive opportunities knowing it gives you a safety net and lead time to find a job.
What you think is what you create. Fan the fires that serve you and believe that all will work to your benefit.
As I practice going with the flow I find that the belief of all is going as it should becomes the norm for me, and as a result I am happier almost all of the time.
God, grant me the serenity to accept the things I cannot change, the courage to change the things I can, and the wisdom to know the difference ~ Reinhold Niebuhr
Sure, I still feel concerned about both small and big events that could affect my life adversely, but instead of dwelling on challenges, I do what I can to meet them in a positive way. When positive thoughts outweigh the negative, it has the effect of opening our minds and hearts to more creative problem-solving and better decisions.
Here's something you can do to begin your practice of 'going with the flow'. At line 3, substitute whatever it is that you want, even a 'healthier lifestyle'. Line 5 is an affirmation that things are now going the way you want them.
Each morning and night, stand in front of the mirror and say:
1. I am now in the Universal flow
2. I am now free to be the person I am
3. I wake up in the mornings and I know that the day will bring challenges and because I am in the Universal flow, I can see them as opportunities.
4. I trust that all is going as it should in the Universal flow
5. I am now seeing my work situation objectively and I am successfully achieving my goals of X, Y, and Z. Please make it so. Thank you.
About The Author: Dianna

As a conduit to Spirit since birth Dianna provides channeled information from her Guides, Archangels, Ascended Masters & Animal Spirits. During readings, information comes to her through telepathy, empathy, visual images and physical sensations. She additionally uses Automatic Writing for very specific details and timing, Tarot and the Lenormand Cards. Dianna's specialties are providing you with remarkably accurate answers to your questions using her psychic consciousness to assist you in reaching new and rewarding goals. A Libra/Aquarius rising with three grand trines in her chart, Dianna has chosen to use her psychic gifts and Reiki Healing Energy to help others, providing practical answers to life's questions plus healing and clearing blockages. You can get a psychic reading from Dianna at
PsychicAccess.com.