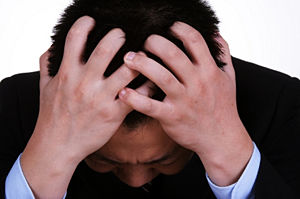 Lately it seems that so many of my clients are receiving messages from their spirit guides relaying to them that they are worrying far too much! It is detrimental to their overall health.
I constantly share with my clients, parishioners, students and loved ones that we need to be extremely careful about the kind of energy we are sending out to the universe. If we could have some kind of 'thought radar' around us, we would probably see actual 'thought waves' emanating from the area around our head and transmitting out into the ethers.
Worry is a vast emotion and according to the Law of Attraction we always get back whatever it is that we send out. When we are worrying about ourselves or our children or loved ones, it is usually due to legitimate concerns, but our approach to resolving it is usually made far more complicated by excessive worrying. The stress of a worried mind is burdensome and can be debilitating.
Worrying is using your imagination to create something you don't want ~ Esther Hicks
I would like to teach you a resource tool that has helped a multitude of individuals I have worked with over the years, as well as entire families. Set aside all the worries for a moment and concentrate on only one situation at a time. Consider the ideal solution that you would like to see happen in that particular matter.
Perhaps a loved one is drinking obsessively, or someone is very ill. Whatever the scenario, stop the worrying and instead change the energy. This will draw the exact outcome you would like to see right back at you, or whoever it is that you were worrying about.
A strong affirmation that I often share, which will help you jumpstart this whole energy change, is the statement: "Fake it… until you make it".
Another part of this energy-changing process is to also send out much appreciation and gratitude. "Thank you Spirit, Archangels and loved ones". Give thanks that what you had been worrying about is no longer a problem at all. In fact, it is quite the opposite!
Drag your thoughts away from your troubles… by the ears, by the heels, or any other way you can manage it ~ Mark Twain
I always include great gratitude to God, my Guides, Archangel Raphael and Archangel Michael.  Of course, you will change the wording depending on your situation, and the gratitude may be sent out to whomever you wish.
One recent, validated instance of how effective this energy change can be is a 25 year old man, and father of two, who had been self-medicating due to huge losses in his life. He had attended funerals of very close family members, as well as a life-long best friend, on several occasions since the age of 13.
Fast-forward 12 years and this handsome, young man was on a mission to self-destruct. From what I understand, he was doing a darn good job at it. His addiction had sucked every bit of life out of his loving, compassionate mom, devastated his sister and deprived his two beautiful children from the loving attention of a good father.
This situation went on and on. His self-imposed roller-coaster ride wouldn't stop, and friends and families worried. Eventually the situation worsened.
It makes no sense to worry about things you have no control over because there's nothing you can do about them, and why worry about things you do control? The activity of worrying keeps you immobilized ~ Wayne Dyer
When his family approached me for guidance, I instructed them to stop the worrying and say: "Thank you spirit that he is completely happy, healthy and whole – drug and alcohol free."
I told them that it may feel as though they were "coughing up a hairball", as if they were choking on these words. It may seem a little out there at first. But they had to "believe, manifest and call it to you and yours".
After having worried for so many years, and then applying the 'change the energy' approach for three months, this family witnessed 360 degree turnaround in his behavior. Not only was he on a successful road to recovery, but the mother's health also improved.
If you achieve this with someone in your own family, I strongly recommend that when your desire has manifested, you continue to take a minute every day to express gratitude. It will keep your loved one protected.
About The Author: Soaring Spirit is foremost a Healer and she does this through readings that she gives and grief counseling that she offers. Her church is a very big part of her life. She is a Pastoral graduate and serves the church in the capacity of Pastor and President of the Board. Soaring Spirit has given over 2,000 readings leaving her clients feeling better than when they started and left with several validations she picked up on, from their energy. She has been told by all of her students and clients that she delivers their messages with extremely high accuracy. She definitely has a direct connection with the spirit world and feels very blessed and humbled by it. Get a reading from this great spiritualist, psychic, medium today at PsychicAccess.com


One Response to "Stop Worrying And Change The Energy"