100 Things You Know About Yourself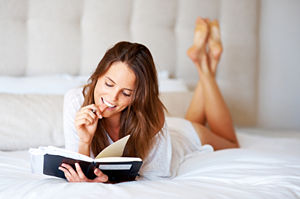 I was recently impressed by a friend's ability to write 100 things about herself that she knew to be true, and put it on the Internet – for all to see! As I read and re-read what she had written, I thought, she really knows herself very well! And then I wondered: do I know 100 things about myself?
So I set out writing a list, and found that who I am retro-fit into the men I chose, the places I've lived and to the experiences I have. I uncovered my Truth.
By doing this little exercise, I was elated to realize that I re-connected with my essence, my soul. I make better choices now. There are moments of bliss, like those that occur through meditation. I also discovered the uniqueness and strengths of my Being. By consciously committing who I am to paper, I had a greater sense of myself and the universe I felt within.
The journey to wholeness requires that you look honestly, openly, and with courage into yourself, into the dynamics that lie behind what you feel, what you perceive, what you value, and how you act ~ Gary Zukov
And who are we, if not ourselves? We are always Becoming. Evolving. The following is a sample of what I discovered about myself:
1. I've substituted water for coffee.
2. No matter how "good" it is for me, I still don't favor dark chocolate.
3. My Home is my sanctuary.
4. Sometimes my psychic abilities enable me to know too much before it's manifested (especially true at work).
5. I cry when people are cruel to animals and children.
6. I don't like being in large crowds.
7. I need a large arena of personal space.
8. When I am creating Art, nothing else exists.
9. I don't trust anyone who doesn't like cats and plants.
10. I appreciate the presentation of food in a restaurant.
11. Until I moved to California, I never knew that wine was packaged in a paper box.
12. The way to my heart is through my head.
13. I have to sit facing the doorway in public gatherings.
Be your authentic self. Your authentic self is who you are when you have no fear of judgment, or before the world starts pushing you around and telling you who you're supposed to be ~ Dr. Phil McGraw
So, why not write a list of 100 things about yourself, that you know to be true? It's an interesting exercise. Write a new list each January 1st. Keep the lists from the year before and watch yourself evolve. Knowing ourselves leads to better selection of life partners; it gives us faith in Universal Truths; and we achieve the trust that anything we desire, we can achieve.
Let me know whether you discovered anything in committing 100 Things You Know About Yourself! Use the comment section at the bottom of this blog, and I'll write back. I'd also love to guide you in finding your direction, overcoming life's obstacles and anything else you want to talk about. Why not visit me now on psychicaccess.com.
About The Author: Dianna

As a conduit to Spirit since birth Dianna provides channeled information from her Guides, Archangels, Ascended Masters & Animal Spirits. During readings, information comes to her through telepathy, empathy, visual images and physical sensations. She additionally uses Automatic Writing for very specific details and timing, Tarot and the Lenormand Cards. Dianna's specialties are providing you with remarkably accurate answers to your questions using her psychic consciousness to assist you in reaching new and rewarding goals. A Libra/Aquarius rising with three grand trines in her chart, Dianna has chosen to use her psychic gifts and Reiki Healing Energy to help others, providing practical answers to life's questions plus healing and clearing blockages. You can get a psychic reading from Dianna at
PsychicAccess.com.