Always Search For Your Personal Truth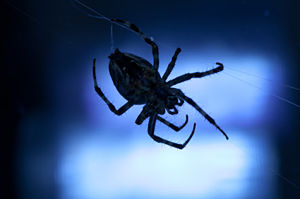 They say that when we are born, the only fear we have is the fear of falling and loud noises. That being said, where do the rest of our fears come from? As we grow up, our parents, friends, co-workers and society all contribute to our belief system, including some of their fears.
There are meanings behind everything we fear. In my family, the top of the list was spiders – creepy and scary was what most people taught me. One day, I looked up the meaning of spiders and what they represent in Native American animal medicine.
I discovered that the spider represents creativity and that she teaches us to weave our lives. As spider weaves her web, so we weave our realities and our fate. This medicine teaches us to remember that we are the creators of our own life experience. So, when spider appears in your life, think about writing down your thoughts.
An animal's eyes have the power to speak a great language ~ Martin Buber
It suddenly all made sense to me. Are most people really afraid of the actual spider, without knowing the real meaning behind it? No, probably not. I believe they are afraid to do something with their live. They are stuck, perhaps? They are not creating their own life, but a life that was expected from them.
Now, here is a question for you – answer it honestly – are you living the life you really want, or are you living the life others expect of you. From family to partners, peers, friends and society, somewhere along the line a firm line was established of what is considered to be right and wrong.
I posed this question to myself one day and I was surprised to find that I didn't believe a lot of what I was told to be believe. Not only did I have to find out some things the hard way, but I kept trying to do certain things 'the right way', to make sure I fit in with family and society.
A belief is not something we hold to be true – not by reason of evidence or our own belief of personal knowing, but by 'authority'. Any belief pattern can change with new information, but as I always ask my clients: "Does it resonate with you?". Do you really believe something, or are you just following the pack?
Convictions are more dangerous enemies of truth than lies ~ Friedrich Wilhelm Nietzsche
A false belief is not based on knowledge or personal experience; it is an authority that puts it there. Our brains are hardwired at an early age to just accept and not question. "Don't question", that is what we are told.
I always find it fascinating how people will just accept everything they hear. Even as a small child, I questioned everything. I was once asked to leave a Sunday school session, because I would not give up on wanting to know where the dinosaurs came from. Robert Brault once said that an old belief is like an old shoe. We so value its comfort we fail to notice the hole in it. How true.
I had a call from a friend the other day, who was constantly being surrounded by hummingbirds. Now, before you think that 'feeders' had attracted them; she had none up at the time. So, I looked it up for her.
Hummingbirds represent joy, love and beauty. Hummingbird darts lightly through the world, spreading its message of joy and beauty, and teaching us to appreciate the wonder and magic of everyday existence. It teaches you how to live in joy and peace, put more emotional sweetness in your life, be aware of twists and turns in your life, and openly express the love you have for the most important people in your life.
Animals can communicate quite well. And they do. And generally speaking, they are ignored ~ Alice Walker
Soon after I shared this information with my friend, the hummingbird 'attacks' stopped. She got the message, so they had no reason to stay! But the next day she was phoning me about raccoons. Their message is that, despite any doubts you may have, the resources you need for your situation is readily available and – here's the kicker – pay close attention to signs and omens to help guide you through this. Raccoon may also indicate boredom, needing a new exciting distraction.
These things make so much sense once you start understanding signs. Animal signs have been a source of great curiosity for me. Even nature itself, in all its glory, has a story to tell. Our pre-conceived notions about how things really are, and should be, too often prevents us to read these messages.
How can one read signs as personal, just because an animal showed up? Simple, you're the one who saw it. And if more than one person did, they needed to hear the same message.
We all have animal totems too; our 'power animals'. Their traits are very similar to ours. I have been Bear for a very long time, which teaches us about introspection. Bear medicine teaches us to go within, in order to digest our experiences, and to discover that we contain within ourselves the answers to all of our questions. We are our own best teacher. Then we bring what we find within to the surface and share it with others. I am notorious for going into my 'cave', when I deem it necessary to withdraw and think!
Human beings are perhaps never more frightening than when they are convinced beyond doubt that they are right ~ Laurens van der Post
Totems can change as we do. Currently my power animal is Dragon. It teaches us about transformation. According to ShamanicJourney.com Celtic tradition may give the Dragon specific qualities of the elements, namely earth, fire, water and air, but in general terms, Dragon's power is that of shedding its skin and emerging as a new, transformed being.
Dragon is also about magic – using the magic within to transform your life. Dragon is also about attraction to spiritual and mystical art forms. Dragon is a contemporary wizard, commanding presence, and being open-minded and accepting of others. This made sense to me, as I have done a lot of 'growing' in the recent years.
This is now my belief system – when words and theories are presented to me, I sort them out myself and don't just blindly accept. Is this my belief system at work? Yes, it is, as it is also to many others. For me, it represents truth and I feel calm. I have no questions. It gives me a feeling of peace when I hear what is truth to me. You may find the same thing with practice.
Have you ever been outdoors in the quiet, and just for one split second you realize that you knew that you were a special part of all of this: the Earth, stars, air! Suddenly, the whole spiritual connection was there. I always tell people there are just no words to describe that moment. It's there, and then it's gone. For that second, though, you just knew.
This is how humans are:  we question all our beliefs, except for the ones we really believe, and those we never think to question ~ Orson Scott Card
I teach a course called The Journey. It also teaches people how to read signs. There are also many great books out there that decipher a lot of these 'signs'. But then again, they are someone else's words and beliefs. Do they resonate with you?
For example, one of the questions from The Journey has you walking down a path and encountering a Bear. What do you do? Some say run, some face it down, some scream or freeze. This exercise actually teaches us how we deal with the problems in our lives. If you run, well, usually you run away from problems. If you freeze, you do nothing about the problem if you can avoid it. And if you face it down, it means that you deal with your problems.
These are just examples, but the intention behind this is to get you to think for yourself! Do you believe in what you do, say and think? Or do you just accept and do it anyway, even when it continues not to work for you? As I said in the beginning, it is perhaps what was expected of you.
These are some of my beliefs. If nothing rang true to you, then by all means keep searching for your personal truth – it's worth it.
About The Author: Isthemus

Isthemus is an experienced psychic advisor with her own Metaphysical Company based out of the Fraser Valley of British Columbia. A natural born empath, clairsentient, clairvoyant, intuitive Counsellor and psychic advisor. Patty still does Paranormal Investigations as well as teaching workshops on how to interpret signs. You can talk to Isthemus at PsychicAccess.com.


This site uses Akismet to reduce spam. Learn how your comment data is processed.