We Are All Inherently Empathic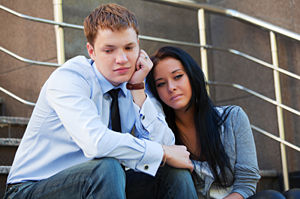 Did you know that the feeling you are sensing from someone, about you, is often correct? This is because we are all inherently empathic. To me, empathy is the embodiment of two feelings – your feelings and someone else's.
There can be a bias towards thinking of telepathy, telempathy or empathy as manipulative techniques to gain control over a relationship. But when you really look into the dynamics, it usually shows what you can do to improve the situation. One cannot be 'empathic' without another person to be sentient with.
The principle is much simpler than can be anticipated. Should you become a non-biased empath, i.e. someone who can sense a person's feelings without being overwhelmed by their truth or sense of reality, you will be able to adopt their point of view and understand it. You will also abide by it to a greater extent, or decide whether to let that person go on their path.
Empathy is full presence to what's alive in the other person at this moment ~ John Cunningham
Some people are not ready to open up to easier communication or answers in their lives, and this is not your fault! Our realities are not just our own. They are constituted by two sets of feelings – you and your partner's. And sometimes, when a third party is involved, you also have to take into account another person's emotional dynamic.
I have always wondered, if we could sense each other's fears, would that really give us cause to hurt them? What I mean is – when you really do understand that what you are feeling is correct you cannot, in theory and in my experience, continue hurting the same person – as you will feel  their pain. It is my belief that this is the reason why some people remain depressed in a relationship, uncertain as to whether the feelings they are feeling are theirs, or their partner's. Often it becomes merged into both, making both partners feel embedded in a situation that there is no apparent solution to.
Could a greater miracle take place than for us to look through each other's eyes for an instant? ~ Henry David Thoreau
I am continuing my studies of empathy and will continue to help others to verify whether what they are feeling is accurate.  I will also continue to offer training and advice on how to manage multiple streams of empathic influences.  It is my hope that I can thus contribute to us becoming more tolerant of people we do not even see or meet across the world – spiritually, culturally and on a relationship level.
We have to start small though. How well do you understand yourself, to know which emotions are originating from you, or if they are only belonging to your partner? I am here to help you discover this. Welcome to my world.
© Carmen Miro 2011
About The Author: Carmen Miro

Carmen's waking dreams have provided accurate glimpses into the future for celebrities as well as political and international figures. Her non-judgmental, Empathic approach, as well as her unique method of Tarot reading, affords her the reputation as a groundbreaker in her field. This European born Canadian is the first online psychic to promote the idea of Empathy and emotional thought transference, and she has written a great deal on the subject. For a comprehensive Intuitive reading that will transform your life, you can find Carmen at PsychicAccess.com.


One Response to We Are All Inherently Empathic