Future Psychic Reader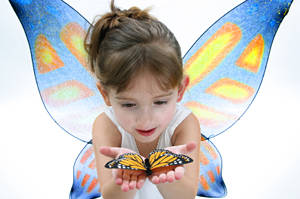 When I look at my daughters and see their psychic abilities, it is almost commonplace to me.
I didn't have the time, interest, knowledge or patience to foster their gifts, so they learned like I learned, by trial and error, and lots of studying.
Now I have granddaughters, and most of them are showing abilities.  Hailey is a medium, she talks to my mother and brother, who both have passed away, my oldest granddaughter, Bryanna, just knows things.
Rayme, the oldest daughter of my youngest daughter, has been showing healing abilities since she was three years old.  It was ridiculously easy to show her how to shift energy, and she has been 'feeling it better' since then.
She was given a gift of a Tarot deck on her ninth birthday, but hasn't shown much interest in them since.  Today she watched me do a reading for one of my private clients and was interested a lot.  I told her she would have to study and advised her to pick one card a day to 'memorize', and to do a three-card reading for anyone who would let her, so she could discover how Tarot works.
While we try to teach our children all about life, our children teach us what life is all about – Angela Schwindt
Of course, I was the one she chose to do a reading for on her 'maiden attempt'.  My question was "will we be financially out of the woods soon?" She shuffled her deck and pulled three cards, one for past, one for present and one for future.
Her cards were:
Past – Ace Pentacles (upright)
Present – Death (upright)
Future – Ten Pentacles (upright)
As she read the meanings to each of the cards, I could see her processing what she was reading.  She doesn't know much about our financial situation, but she does know that we are taking our vacations here, at home.
There are two lasting bequests we can give our children. One is roots. The other is wings ~ Hodding Carter, Jr.
What surprised me is how she separated the meanings of each card, and then put the parts together so it answered the question.
Yes, there was a recent addition to our income.
Yes, our household is undergoing some major changes.
Yes, we will inherit a fairly large sum of money when my mother-in-law passes.
She had a tough time with that last one, my mother-in-law lives with us, and has gotten quite close to the grandkids who spend the most time at my home.
We discussed how Mom wanted to go, she feels it is her time, and is ready.  Then Rayme filled in the rest: "then she won't have problems walking, she'll be with Opa", and on, and on, as only a nine year-old only can.
It's going to be a lot of fun teaching this little one.
About The Author: Indigo

Indigo is an Indigo child, her gifts have been handed down through generations, and she has used them since she was a teenager. Using a unique blend of, tarot, astrology, numerology, psychology and clairvoyance, she is able to give you the most information in the shortest time possible to help you find a way to change your situation. She has been a spiritual advisor in her community for 20 years and continues her education, while fostering the gifts she has handed down to her grand-children. You can get a reading from Indigo at PsychicAccess.com.


One Response to Future Psychic Reader