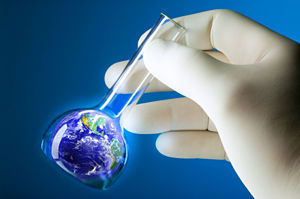 At a university 'think tank' lab room a gathering of people in long white coats  were seated in groups of six at round tables.  Also, at the front of this room a committee of scholars was seated at a long table with a sign across the front:
Lead Team ~ The Search for the Ultimate Theory of Everything
Each group at the round tables had been given a single element to analyze. They were to establish their element's components, without giving it a title, and then bring their findings to the front of the room. The lead team was in charge of labeling the elements and then offering them up for a debate on an ultimate theory of everything. The separate elements were listed on the chalk board as:  eggs, flour, sugar, salt, butter, baking powder, milk, and vanilla.
A great debate ensued. The divergent, ego -driven, points-of-view of those in the room did not lend themselves to making sense of it all. "It could be this…it could be that…what does it all mean…what if we do this or that?"
What would it mean if there were a theory that explained everything? And just what does "everything" actually mean, anyway? Would this new theory in physics explain, say the meaning of human poetry? Or how economics work? Or the stages of psychosexual development? Can this new physics explain the currents of ecosystems, or the dynamics of history, or why human wars are so terribly common? ~ Ken Wilbur
The doors to the lab opened up at this point and a rather unscientific looking woman pushing a cart entered the room. One of the group members was asked to stand up as everyone began to sing a rousing chorus of Happy Birthday…which was a welcome relief from the heated debate that had been taking place.
The woman rolled the cart over to the birthday person. She opened the box on top of it revealing a birthday cake. As people began eating pieces of the cake they commented on how delicious it was and wanted know what was in it. Someone handed the woman a piece of chalk as she walked up to the board at the front of the room… and next to the list that was already there she wrote: eggs, flour, sugar, salt, butter, baking powder, milk, and vanilla.
Uproarious laughter broke out as everyone began to realize… the ultimate theory of everything could be as simple as a cake recipe. The woman glanced back on her way out of the room and said: "Sometimes we just can't see the cake for the all of the ingredients. "
© Heartlight 2009
PsychicAccess.com.


Heartlight is an "Empathic Coach" with a lifetime of developing of ESP. With 16 years of working as a Psychic Adviser, (the last 7 years of adding Life, Motivational and Relationship Coaching training into the mix), she maintains a very loyal following at PsychicAccess.com. She goes beyond simply sharing messages about things that are hidden from her clients awareness along with information she receives about their future. Heartlight also coaches her callers to use the messages that come through her empathic gifts for their own highest good by blending kindness, humor and wisdom into her readings. Get a reading today with Heartlight at