The Transformation Station…An Essay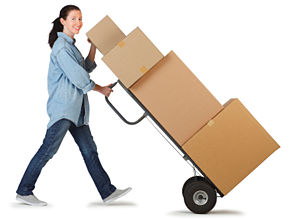 The sign over the door to the building read:  "The Metaphorical Center For Recycling Euphemistic Baggage".  Inside  . . . at either end of a long conveyor belt . . .  two more signs read: "Dump Your Old Issues Here" and then "Get Your New Life Here".  Over the middle of the conveyor belt was a big, rectangular machine with flapping rubber doors on either side and a sign over it that read:
"The Transformation Station"
I had heard of this place.  A good friend of mine had tried it…so I thought… what the heck…I might as well give it a shot.  I was "stuck" and exhausted from carrying around the weight of old stuff that I was hanging on to from my past.
I had so many things to recycle that I had to use one of those long, flat floor carts to bring them up to the starting point on the conveyor belt.  I had issues like bitterness, hatred, resentment, sorrow, phobias, panic, compulsions, depression, sexual dysfunction, anxiety, obsessions, pain, and nightmares just to name a few.
Everyone's got emotional baggage; the question is, what are you doing to unpack that trunk and put it away, so your lovers, friends and relatives don't have to keep tripping over it? ~  Shari Schreiber
One by one I deposited all of my problems at the start of the conveyor belt and as each issue moved along and went through the machine in the middle it came out on the other end renewed . . . changed . . . into inspiration, clarity, self-esteem, courage, personal responsibility, imagination, spirituality, heroism, gentleness, awareness, hope, tenderness, joy, faith, humor, love and passion  . . . just to name a few.
Wow . . . talk about "happy feet"… What and attitude adjustment!
I did a jig out of there on my tip toes and I have been dancing with life ever since.
©  Heartlight 2009
About The Author: Heartlight

Heartlight is an "Empathic Coach" with a lifetime of developing of ESP. With 16 years of working as a Psychic Adviser, (the last 7 years of adding Life, Motivational and Relationship Coaching training into the mix), she maintains a very loyal following at PsychicAccess.com. She goes beyond simply sharing messages about things that are hidden from her clients awareness along with information she receives about their future. Heartlight also coaches her callers to use the messages that come through her empathic gifts for their own highest good by blending kindness, humor and wisdom into her readings. Get a reading today with Heartlight at PsychicAccess.com.