Predicting Time With The Tarot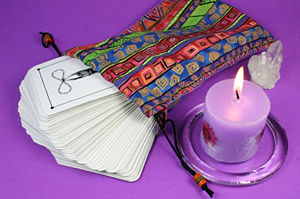 One of the questions I've been asked most frequently during Tarot readings is "when?" Timing is one of the hardest things for a Tarot reader to pin down, and there are several methods one can use. The following techniques are the two I personally use most often:
When I use the Celtic Cross or Double Celtic Cross spread for a reading, I also I draw two additional cards and place them to the left under the 'past' cards. The first of the two cards is the one I look to for time. Wands represents weeks, Pentacles is months, Cups is days, and Swords mean the decision has not been made, but it's likely to stay stuck in that situation for that number of years. For example, the Four of Swords would represent four years. When using Swords as timing, the decision is still dependent on other factors; the Swords just indicate that the situation has to stay in its current status.
For centuries, man believed that the sun revolves around the earth.  Centuries later, he still thinks that time moves clockwise ~ Robert Brault
A Court card in this 'timing position' means that the decision has to be made by someone other than the querent, and is currently being considered by that person.
A card from the Major Arcana means that there is some healing, letting go of something or someone, some karmic baggage to clean up, or another type of spiritual work that needs to be done by the querent, before that decision can be made. I always look at the definition of the card in that position, as well as the second card, which reveals more information about the matter at hand.
Time is a brisk wind, for each hour it brings something new… but who can understand and measure its sharp breath, its mystery and its design? ~ Paracelsus
The second technique I like to use is to see if there is an Ace in position 6 through 10, because that means it will happen in a certain season; if the card is reversed, it predicts that it will be in the last half of that season.
Ace of Pentacles = Autumn
Ace of Swords = Winter
Ace of Wands = Summer
Ace of Cups = Spring
This method isn't very precise, but can give you an idea of when things will start moving forward again.
About The Author: Indigo

Indigo is an Indigo child, her gifts have been handed down through generations, and she has used them since she was a teenager. Using a unique blend of, tarot, astrology, numerology, psychology and clairvoyance, she is able to give you the most information in the shortest time possible to help you find a way to change your situation. She has been a spiritual advisor in her community for 20 years and continues her education, while fostering the gifts she has handed down to her grand-children. You can get a reading from Indigo at PsychicAccess.com.


3 Responses to Predicting Time With The Tarot