Popcorn Popping On The Apricot Tree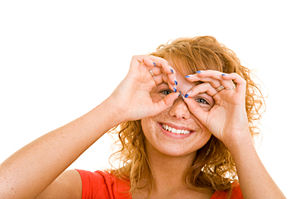 People have asked me on several occasions during psychic readings why they haven't seen any signs. I usually ask people if they would recognize a sign as a sign. I believe it is best to stop looking for it consciously, because the sign will appear in its own way and in its own time.
After her death, my mother used to put certain songs into my head. They were songs I had learned in Sunday school, like I'll Be a Sunbeam or Popcorn Popping on the Apricot Tree.  When I asked her to stop, she started giving me the punch lines to inside, off-color or politically incorrect jokes instead! Any time anything pops into my head, which is out of the context with what was going on right then or my frame of mind at the time, I knew it was her.
I looked out the window and what did I see? Popcorn popping on the apricot tree! Spring has brought me such a nice surprise, blossoms popping right before my eyes ~ Georgia Wahlin Bello
I started to use my psychic abilities to earn a living when I was about 38 years old. Mom was shocked. The religion I grew up in has an 'as we understand it to be' philosophy. One thing my mother was adamant about was that women, because they aren't ordained into the priesthood, "cannot have the right of divine prophecy". So, in her eyes, what I did was heresy. I could be excommunicated.
She admitted much later that she was also psychic, but she refused to use it unless it was for her children. We made no deal about her contacting me from the other side when she could, yet whenever I'm at odds with my children I know she will be there to 'give me advice' in a way she knows I will understand.
Most of us have experienced this at some time in our life, and often we put these feelings down to intuition, fate, or coincidences. We get signs that they are around from many things, such as music, seeing pennies, angel feathers ~ Lisa Williams
A close friend, Shannon's husband Mark passed away a few years ago. Shannon is Wiccan and had been watching for signs and not seeing them. The day after I learned of his death he came to me in the shower and asked me to give Shannon a message from him. I refused. I told him she knew what I knew and that he should go talk to her.
Mark returned for the next three showers, begging me to give Shannon his message. I finally told him: "Fine, I will do it, but it's under protest". I asked him how she would be sure it was coming from him and he told me to mention "the daisies".  Shannon later confirmed that daisy was her favorite flower, information I didn't have, but Mark did. The message was delivered and I have not heard from Mark since.
The point is that we must be open to everything around us, in order to recognize a sign as a sign. Did your mother love hummingbirds and you're seeing more lately? Are you noticing a phrase or a word or a number more than usual? Pay attention, look around more; don't just look for the obvious, be open to any message.
About The Author: Indigo

Indigo is an Indigo child, her gifts have been handed down through generations, and she has used them since she was a teenager. Using a unique blend of, tarot, astrology, numerology, psychology and clairvoyance, she is able to give you the most information in the shortest time possible to help you find a way to change your situation. She has been a spiritual advisor in her community for 20 years and continues her education, while fostering the gifts she has handed down to her grand-children. You can get a reading from Indigo at PsychicAccess.com.


This site uses Akismet to reduce spam. Learn how your comment data is processed.