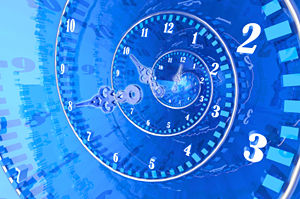 So many people ask about time lines during psychic readings. When will I get married? When will I become pregnant? When will he call?
It is natural to want to know when something will happen. Our human minds have an unending quest to control our lives. If we know when something will happen, we feel that we have more control over it and we feel reassured that the event will indeed take place.
As I did some research on the subject of free will, I was interested to learn that it is variously described as a concept, a doctrine, and a philosophy. Its origins lie in religion, metaphysics, and even physics or science. The topic has been debated and documented for centuries!
In its simplest explanation, free will can be defined as voluntary behavior. It is our ability to make choices that affect the outcome of situations. Free will is also understood in terms of its opposite, namely determinism. Determinism, or pre-destination, refers to events being predictable and pre-determined, explicable by religious and universal, physical laws.
The Future is something which everyone reaches at the rate of sixty minutes an hour, whatever he does, whoever he is  ~ C.S. Lewis
When it comes to psychic readings, I have a distinct preference for believing in free will. The guidance I receive during readings includes a pathway to achieve the results you want. If your goals include other people, they also enter into agreements by free will alone. For this reason I believe that, by definition, specific time lines are not predictable.
While I am able to provide a time frame, such as 'within one month' or 'in six months' I do not receive information as to specific dates. My method involves engaging my clients to move toward their goals – whether it is in reference to romance, career, pets or finances — with guidance from my psychic Tarot readings. I'd love to read for you, so do visit me at PsychicAccess.com.

PsychicAccess.com.


As a conduit to Spirit since birth Dianna provides channeled information from her Guides, Archangels, Ascended Masters & Animal Spirits. During readings, information comes to her through telepathy, empathy, visual images and physical sensations. She additionally uses Automatic Writing for very specific details and timing, Tarot and the Lenormand Cards. Dianna's specialties are providing you with remarkably accurate answers to your questions using her psychic consciousness to assist you in reaching new and rewarding goals. A Libra/Aquarius rising with three grand trines in her chart, Dianna has chosen to use her psychic gifts and Reiki Healing Energy to help others, providing practical answers to life's questions plus healing and clearing blockages. You can get a psychic reading from Dianna at
2 Responses to "Free Will And Timeline Predictions"