The Lunar Eclipse, Two Orbs And A Message Of Support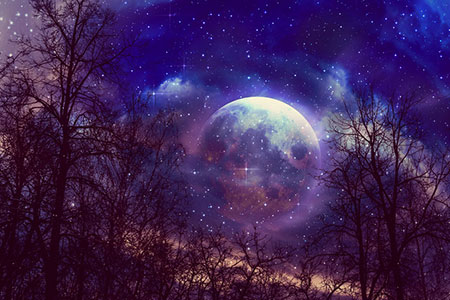 Recently, on June 5th, I was relaxing, waiting for the sun to set, because a penumbral lunar eclipse was due to occur that evening. The Strawberry Full Moon was set to turn a shade darker during its maximum phase. Photographers around the world were preparing to capture images of this special event. The moon would have an unusual light in a way we do not see very often.
Many people had been texting and posting about the shift of energy that will happen with this special Full Moon. I was not taking it too seriously, but I did have my new camera handy, in the hope of capturing some cool images of my own. But I surprised at what happened!
I waited in the dark for the perfect moment to take some pictures, having made sure that the lens was clean and there were no other lights to cause flares or reflections. But when I looked at the result, not only did I see the moon, but there were also a small blue orb and a white orb of light captured in the image.
I was quite amazed. No, I thought, how is that possible? I took some more photos, and there it was again: the small white and blue orbs! This was my first time I have ever captured orbs in my photography. I was still considering the possibility that it was just a glitch caused by the moonlight, when I noticed something even more unusual in the picture. I could clearly see the outline of a ghostly figure. It is kind of like hitting the paranormal jackpot…when you capture the moon, two orbs, and a spirit entity all in one photo, and that during a significant lunar eclipse! It does not get more spooky than that.
It's a good idea, if you capture colored orbs, to study the spiritual meanings of colors and see if there's a message for you ~  Jenny Smedley
The phenomenon of orbs has become very popular in psychic and paranormal circles in recent years. Orbs are the globular light anomalies one finds in photographs and videos that are believed to be due to the presence of spirit beings, angels or ghosts. The orb phenomenon became more prevalent in the metaphysical community since the 90's, with the introduction of digital camera technology.
Researching the meaning of the two orbs, I discovered that white orbs are associated with spiritual connection, higher consciousness, strength, protection and power. Blue orbs are associated with intuition, psychic energy and protection. What makes it even more interesting is that eclipses are considered in Astrology to be a spiritual 'helping hand' that encourages us to abandon what is comfortable or safe, in order to grow more fully into our true self. It brings with it an invitation to expand our personal growth with renewed courage, and experience a deeper connection to our spiritual gifts.
I believe the ghostly apparition in my moon photos was a loved one or spirit guide visitation, bringing me a loving message of spiritual protection and strength, as well as guidance in my psychic work. I do believe in the phenomenon of orbs, as well as the love, guidance and protection we receive from spirit when we need it most.

About The Author: Raiden

Raiden's Mediumship practice has been serving a wide group of people for several years in South Africa, and globally through the technological advancements that allow for remote readings. Clients include numerous A-listers, from high profile celebrities to leading entrepreneurs. He's provided intimate strategy readings and accurate advice to the business sector, even forecasting to tech leaders what will be the next big thing. He's guided entertainment personalities, sports figures, chefs and acclaimed writers, and has offered his own special brand of Mediumship to people from diverse cultures and all walks of life. He runs a successful boutique reading practice, utilizing the latest technology that's out there, but has also provided in-person readings, in one-on-one settings, for large gatherings, for film stars, and at hotel openings. Raiden's life includes giving back. To that end, he works diligently for charities that include an important polo charity event. His cross-over Mediumship readings provide clarity, answers and closure given from a sacred, honored place where Spirits can step forward and be heard. If you'd like a reading from this powerfully gifted Medium, you can find Raiden at PsychicAccess.com.