Removing Negative Energy From Your Home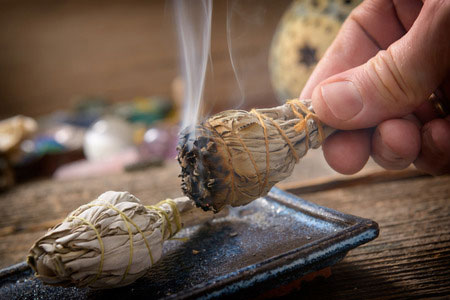 If you think your house might be haunted, or affected with negative energy, a spiritual cleanse that removes negative energy may be just what you need. A spiritual cleanse of bad energy is simple enough to do by yourself and effectively remove it from your home, but a serious haunting will probably require professional help.
Ghost-hunting is not for the faint-hearted and it should always be researched and done with extreme caution, as you never know whom might come from the Other Side or, even worse, have an attachment to you. It is fun to watch on TV, but going out to actually experience it is another matter. It is best to get professional assistance with house clearings.
According to the Chicago Tribune*, psychic medium Denise Guzzardo recommends the following DIY methods to remove negative energy from your home.
Sage
Remove bad energy with sage. This practice dates back to Native American cultures, but it's accessible and successful even today. Sage sticks are available at your local grocery store. The pungent smell of sage clears the space of negative energy.
White Candles
White candles are known to keep away supernatural spirits that bring negative energy into your home. The positive energy from the white candles negates the negative energy of spirits. You must light white candles in votives in every room of your home to remove negative spirits.
When you learn how to cleanse your house of negative energy, you'll be able to experience tranquility and harmony in your domestic life ~ Heather Askinosie
White Roses
White roses suck out the surrounding negative energy. But what do you do with the roses that have absorbed the negative energy and dried away?
Throw out the dried flowers into your drain immediately, and then rinse salt down the drain to clear it of energy negative energy that it has absorbed.
Salt
Salt can be sprinkled around your home to prevent new negative energy from entering your home, but it also gets rid of existing negative energy. Dust the entrances of your home with salt common salt.
A person terrified with the imagination of spectres, is more reasonable than one who thinks the appearance of spirits fabulous and groundless ~ Joseph Addison
Voice
Talking to the ghosts that exude negative energy can help drive them out along with that energy. Stand in the space where you feel the presence of negative energy and simply say, "You are not welcome here." Don't give them any attention after that. Don't try to summon entities with spirit-summoning activities like Ouija boards, or séances. That will only give them the attention that they crave, and make them more active.
* SOURCE: How To Remove A Ghost by Jen Weigel, Chicago Tribune, October 22, 2010.

About The Author: Raiden

Raiden's Mediumship practice has been serving a wide group of people for several years in South Africa, and globally through the technological advancements that allow for remote readings. Clients include numerous A-listers, from high profile celebrities to leading entrepreneurs. He's provided intimate strategy readings and accurate advice to the business sector, even forecasting to tech leaders what will be the next big thing. He's guided entertainment personalities, sports figures, chefs and acclaimed writers, and has offered his own special brand of Mediumship to people from diverse cultures and all walks of life. He runs a successful boutique reading practice, utilizing the latest technology that's out there, but has also provided in-person readings, in one-on-one settings, for large gatherings, for film stars, and at hotel openings. Raiden's life includes giving back. To that end, he works diligently for charities that include an important polo charity event. His cross-over Mediumship readings provide clarity, answers and closure given from a sacred, honored place where Spirits can step forward and be heard. If you'd like a reading from this powerfully gifted Medium, you can find Raiden at PsychicAccess.com.