Spiritual Well-Being In The Workplace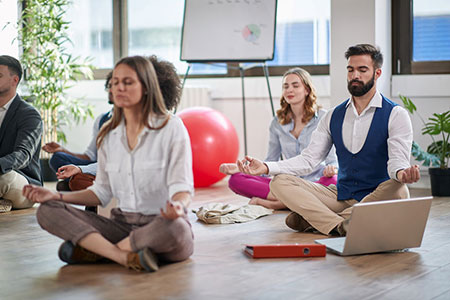 Since we spend most of our time at work, it is important to consider the impact it can have on our health and well-being. The ideal work environment not only ensures one's physical health and safety, but also nurtures our spiritual well-being.
A spiritually-conscious work environment inspires employees to make a positive difference in the world, and their workplace becomes a haven. In such a haven, they will feel much more accepted, and their sense of purpose much better fulfilled. Overall, they will be happier and more content, and enjoy more productive days at work.
Addressing spiritual wellness is thus a mutually beneficial strategy for the employees and the company or business, as well as the surrounding community. Across the globe, an increasing number of established brands and industry leaders are consciously introducing spiritual wellness into their corporate fabric and company cultures. This can be achieved in various ways that are easy to adopt in most businesses:
Meditation Space
A calm, serene space set aside in the workplace where workers can meditate, center themselves and leave stress behind, is a great way to keep them grounded and connected to the inner self. Meditation helps the individual be more self-aware. It also sharpens the senses and the intellect, and reduces the likelihood of human error in work tasks.
The work environment can also be enhanced by applying traditional philosophies of interior design and sacred space, such as Feng Shui, Vastu, Wabi-Sabi , and Wu Wei. These traditions use various elements, such as interior water features, natural lighting, plants and even trees to create a more serene and energized environment. Water is very calming and has a high energy frequency and nature is healing and uplifts our spirit instantly.
Spirituality in the workplace is about individuals and organisations seeing work as a spiritual path, as an opportunity to grow and to contribute to society in a meaningful way ~ Ritika Srivastava
Diversity Programs
Being inclusive and actively nurturing bonds with colleagues and associates, is another simple way by which a workplace can foster spiritual oneness. Diversity programs that empower employees to share their beliefs, values and ideals can go a long way in making for better communication and fostering better relationships under the corporate umbrella, as well as with the local communities.
Organized Activities
Promote the positive and uplifting by organizing group or team activities. For example, support a social cause with a charity run or a meal donation program, and get staff deeply involved in the activity. Such social activities not only works wonders to foster a positive, happy work environment, in which employees are energized by the feeling of doing something deeply significant and satisfying, but it also promotes corporate social responsibility.
We are not just a bunch of bodies, like machines, doing work. Nor are we just a bunch of minds, like computers that process information. We are alive! We have vitality or a life force that runs through our veins. We are human spirits, and together we are spiritual ~ Debra Lafler
Group spiritual practices can also work wonders in the workplace. For example, group Yoga or Tai Chi sessions, with teachers coming in to teach these techniques. These disciplines helps the individual draw upon inner resources, become more productive and improves physical health and fitness.
These are just a few simple, low-cost initiatives that companies can introduce to ensure the spiritual well-being of employees, with the added benefit of having a motivated, energized workforce and inspired productivity.

About The Author: Raiden

Raiden's Mediumship practice has been serving a wide group of people for several years in South Africa, and globally through the technological advancements that allow for remote readings. Clients include numerous A-listers, from high profile celebrities to leading entrepreneurs. He's provided intimate strategy readings and accurate advice to the business sector, even forecasting to tech leaders what will be the next big thing. He's guided entertainment personalities, sports figures, chefs and acclaimed writers, and has offered his own special brand of Mediumship to people from diverse cultures and all walks of life. He runs a successful boutique reading practice, utilizing the latest technology that's out there, but has also provided in-person readings, in one-on-one settings, for large gatherings, for film stars, and at hotel openings. Raiden's life includes giving back. To that end, he works diligently for charities that include an important polo charity event. His cross-over Mediumship readings provide clarity, answers and closure given from a sacred, honored place where Spirits can step forward and be heard. If you'd like a reading from this powerfully gifted Medium, you can find Raiden at PsychicAccess.com.