Relationships Are Transpersonal Mirrors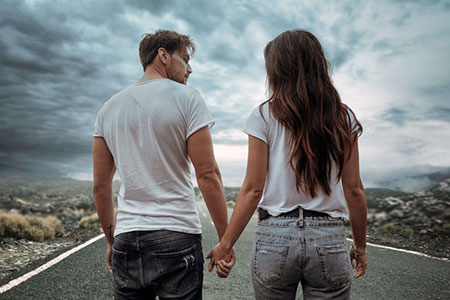 Relationships come in all shapes and sizes, just like people. No one relationship is ever the same, nor can it be compared to, or competed with. Every relationship is dynamic and has a plethora of unique characteristic.
Our multi-faceted, highly complex relationships define us. They mold, shift, alter, arrange, blend, extricate, cajole, and elicit both the best and worst in us. Much is entailed in the transpersonal acrobatics we set off, in order to be effective in getting what we want from others. Dare I mention, on top of all that, the clandestine involvements we keep secret?
If and when we concentrate our distorted perceptions on what we're getting from the relationship, instead of simply 'showing up for the gig,' we wouldn't miss a vitally important aspect of each relationship: the opportunity to see ourselves more truthfully and clearly. In fact, relationships are the crystal clear mirrors of who and what we truly are.
It's too easy to get 'hung up' on the blinding effect of erratic dancing in the blurred shadows of external forces operating in our various, multi-layered relationships. We can, however, learn much about ourselves, should we be vested enough to add sufficient interest, inclination, effort, actual involvement and committed attention in proportions necessary to solicit hidden motives from ourselves. Then we will reap the astounding benefits of self-disclosure.
By becoming more acutely aware of the whole, perplexing, spidery-webbed picture, we render a much better receptive state of mind. This sponge-like mindset solicits an initial discovery phase, in which much of our inner motivations can be clearly seen.
Everything that irritates us about others can lead us to an understanding of ourselves ~ C.G. Jung
Just as important to realize and accept is the fact that the existing incurred relationship always beds a third silent entity. That unseen force remains as the governor and guardian of the involvement. We, as human beings, often forget this simple ingredient. It is this one element that determines the longevity of the union itself.
We usually indulge hopefully in an involvement, if the winds seem to effortlessly sail our vessel. But, far be it for us to keep happily afloat when the tempest begins to blow. Sad to say, and sadder to realize, when authentic work is demanded for further cruising, we tend to shrink from placing the oars of identifiable discontent in our hands.
We want to take credit for the obvious 'relished enjoyment' of inter-playing forces being presented, but shirk from the responsibility when pivotal blame enters the race. We could be reminded in times such as these that "the race is not for the swift, nor battle for the strong, but time and chance happen to all mankind." (Ecclesiastes 9:11)
Self-awareness happens when we become aware of other people, things and places around us and how we are all connected ~ Toni Sorenson
We must train ourselves to 'see through' simmering appearances and alluring falsities of self-enrichment. How does one do this? Relax and flow with the moment, without comment up on it.
That being said, one's interpretation of any intimate involvement is, no doubt, faulty. We see through distorted eyes of flattering self-aggrandizement. We always want to be the hero, or the noble victim, or the one who did so much for the other. Not so. The most important aspect of the union was the third silent partner who is rarely consulted.

About The Author: Paula

Paula's innate metaphysical abilities, artistic talents, and entrepreneurial acumen have mixed wonderfully together to create a social media sensation, one who enjoys great popularity on LinkedIn, Instragram, Facebook, and YouTube. She dispenses not only accurate and intuitive divine wisdom but has artistic offerings that include vibrational soul paintings displayed on the internet, and she is a gifted singer and music producer as well. Her calling as a cosmic therapist led her to be the founder of MODE (Masters of Divine Essence) Cosmic Therapy Research Center, where she's published numerous books, songs and plays, and has held many workshops and seminars throughout the Southeast. She even produced her own program, The Mode of Cosmic Therapy Interactive Television Show that aired on WRTN, in Raleigh, NC, for ten years. Paula is also an avid astrologer who interprets the stars and predicts your chart energies at work. If you'd like a detailed glimpse at your own cosmic blueprint, or you have burning questions that require clear answers, Paula will employ all the tools and talents at her disposal for a reading that will dazzle and transform your life. You can find Paula at PsychicAccess.com.