Making The Most Of The Ebb Of Life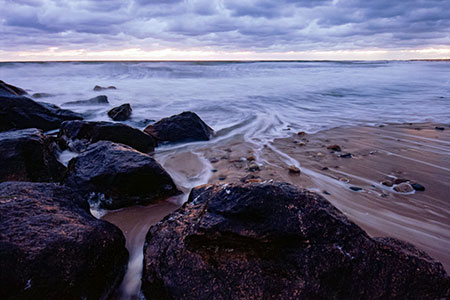 Life follows a cyclical pattern, of ebb and flow, whether it's our health, money, career, education, relationship, family or lifestyle. Focusing on what brings you joy, and what we do during these challenging 'ebb times,' make a difference once the flow returns. During the difficult times in life, we can feel that there is not enough, or we've failed in our judgment, or we are in survival mode. But don't panic, a time of ebb is temporary, and in time things will begin to flow again.
The ebb that we are currently experiencing can be a highly creative time to journal our ideas or create a new vision for our future; since we are off the spinning wheel of life temporarily.
A friend who was experiencing this kind of pause some years back, felt a sense of panic every day. He was obsessed with situations and people. After his ebb time, when things picked up again, we connected at a spiritual retreat. He shared with the group the lesson he learned from his experience.
By spending his days in panic, he felt he missed out on the luxury of free time to spend it in ways he would have enjoyed more. He always wanted to develop a course, but did not work on it during this time by doing the research he usually enjoys.
He also missed out on honing his skills for a new job and finding clarity on what he really wanted in life. He was also not working on the relationship he wanted to manifest, instead of clinging to the one that was already hanging by a thread.
Worry is a thin stream of fear trickling through the mind. If encouraged, it cuts a channel into which all other thoughts are drained ~ Arthur Somers Roche
Most importantly, he never got around to being in a vibration of allowing, accepting that the Divine already had a plan for him and that he was never alone.
Focusing on the things we can control and that can make a difference in our life, can move us gently out of the stress of an ebb. Instead of indulging in worry and anxiety, we should focus on the abundance we already have in our lives, as well as the hidden resources and social support. And we must have gratitude for all of it.
Whatever our negative experiences are, debt, family problems, career uncertainty, relationships problems, loneliness, the difficult times give us a chance to gain clarity and be honest with ourselves. We can spend the time looking at what we really want to change and what new things we wish to create – something we might not do during a busier and more certain time. The ebbs don't define us, or our future happiness.
This is where the spiritual law or principle of allowing comes in. It might seem to be one of the easiest principles with the least action and no resistance, but as humans we tend to feel we need to always push hard to receive what we desire. But it's actually quite the opposite. There is a freedom in allowing.
When we feel negative emotions while we desire something to manifest from the Universe, we are blocking its manifestation.  Instead we are stuck in a misaligned energy. Releasing our resistance, we put our vibration and energy back into the state of allowing and what we desire, love, abundance, success, will find its way to us. The ebb experiences in life are opportunities to reevaluate our lives, and consider the steps we can take to change our lives for the better, when things begin to flow again.
I trust in the ebb and flow of the universe. I trust that life's bigger than what I can see. I trust that there is a divine order beyond my control. And I trust that no matter what happens, I will be all right ~ Oprah Winfrey
Meanwhile, send love to your fears and be gentle with yourself.  Take a few minutes every day to write about them in your journal, acknowledge them, then move on to a more positive feeling or activity. I have this big house in my imagination that has many rooms. When I have spent my time thinking about or writing out my fears, I put them in a virtual safe room in that house, and shut the door. This is a technique that works for me.
When my mind begins catastrophizing, imagining scary future scenarios, and even believing them, I compel myself to anchor back into the present moment. I hold a grounding crystal, or spend a few minutes in meditation, or take a stroll outside.  Then I'm not future tripping, trying to take on my whole life all at once just one step at a time.
Reaching out to others can help, as everyone is having their own experiences and appreciate that someone is checking on them. I have been in mastermind groups, where the energy is positive and forward thinking, where we talk about our desires and ideas. Without judgment, we each take a turn speaking, listening and offering ideas, and holding each person's vision like each in the group holds ours.
Here are a few questions that might help you move through your time of ebb:
What strengths and qualities am I developing?
What new practices I'm learning about to improve my coping skills and improving me?
What have I discovered to be the truly important people and things in my life?
As our times are just a little intense right now, the more we can come together, online and in spirit, the more peace we'll have as we face this collective uncertainty.

About The Author: Maggie

Maggie helps people turn the radio dial up on their vibrations to hear the messages you're meant to receive. It all began as a teen with a dog-walking job in the neighborhood that—if you'll excuse the pun—unleashed Maggie's innate Gifts as a powerful Intuitive Reader. What followed was a rewarding career as a Tarot Reader, Numerologist, Reiki Master, and Angel Card Reader—to name just a few of her remarkable skills. Maggie's accomplishments include on-air co-host for Blogtalk Radio, several published articles on Tarot and Numerology, she's an endorsed reader for The Tarot Guild, and a much sought after Intuitive Reader hired for both corporate and private events. In addition, she has a YouTube channel where you can view and subscribe to her weekly vibes. If you'd like to personally tune-in to Maggie's unique and highly accurate vibe, for yourself, you can find her at PsychicAccess.com.