Invest In Yourself For The Greater Good!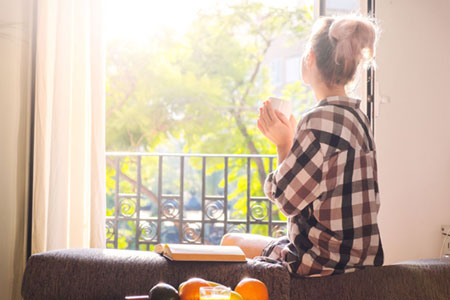 Charity truly does begin at home. Yes, we must invest in ourselves too. This might sound selfish at first, but actually the opposite is true. Investing in ourselves also touches the lives of those we interact with, and influences the world around us in a positive and sacred way. We feel 'a good kind of different' when we also value ourselves.
How do you invest in yourself? Consider the classical elements of life: Earth, Fire, Water, Air and Spirit. To fully invest in our own well-being, growth and expansion, we must be sure to pay attention to each of these elements in our life.
For example, Earth represents the solid, material things we can feel and touch. The Earth element is what grounds and centers us. It is related to how we manifest. It's about prosperity, money, wealth, material assets, financial investments, savings, as well as taking care of our physical body.
When we consume organic, sustainable foods that support our well-being, for example, we support those who grew the food and brought it to market. We therefore not only positively impact our own health and wellness, but we also benefit others, as well as the environment and planet.
Similarly, if we make the effort to manage our finances responsibly, for example, we have more spending power to contribute to the greater economy for the benefit of all, and we are also empowered to make larger and more frequent contributions to charities.
If one applies this concept in other areas of our lives, it soon becomes clear that an investment in ourselves also touches the lives of others, and creates balance in all the elements that creates love, well-being, peace, harmony, joy and happiness.
Investing in yourself is the best investment you will ever make. It will not only improve your life, it will improve the lives of all those around you ~ Robin Sharma
Below are a few more ways we can invest more in ourselves for the greater good.
How we begin our mornings and our days is important. When we value ourselves and invest in the things and rituals that bookend our day, everything goes more smoothly in-between.
Make plans for activities throughout the months and year. This way we put ourselves on the calendar of life.
Research sustainable products to use and invest in.  This gives us a connection to the world, earth, and we feel we are living a purposeful life and staying current with new discoveries.
Connect with like-minded people. We excite each other, share experiences, connect on a deep level, feel positive and share new interests.
Practicing radical self-love is self-acceptance and self-gratitude, which leads to greater joy and growth. We become magnetic and our heart center is open for love.
Seek out good books, to not only educate, but also to uplift our mind and spirit.
Simplify your life to have space to breathe. The investment of removing the clutter, removes the chaos.
Participate in retreats, conferences. We come back invigorated and with new and exciting ideas to implement in our lives.
Pursue education. Value your knowledge and skills, as it opens doors and windows to the future.
Look for volunteer opportunities where your passion lies.  It not only helps others, but gives us a feeling of greater purpose.
When we invest in helping animals, whether it's adopting, donating our time or money, we find a sacred connection between each other.  They give us something that is indescribable.
Move your body.  Moving out of our comfort zone, and that includes the body, is the quickest way to lift our mood and strength our body to do the things we love.
Create rituals through the day, months and years. Find somethin simple that connects you to the mystery of life. It can be as simple as washing the dishes while being present, or creating an elaborate ritual for New Moon intention-setting.
Become friends with money, along with cultivating responsible financial planning and spending habits. Start small or go big. Just start. It will benefit you, and there will be more to share. In small and big ways we can all be both receivers and givers.
Know you are worth the effort, keep showing up, it's not about perfection.  Self-investment allows you to own your self-worth, power, ambition and healing!

About The Author: Maggie

Maggie helps people turn the radio dial up on their vibrations to hear the messages you're meant to receive. It all began as a teen with a dog-walking job in the neighborhood that—if you'll excuse the pun—unleashed Maggie's innate Gifts as a powerful Intuitive Reader. What followed was a rewarding career as a Tarot Reader, Numerologist, Reiki Master, and Angel Card Reader—to name just a few of her remarkable skills. Maggie's accomplishments include on-air co-host for Blogtalk Radio, several published articles on Tarot and Numerology, she's an endorsed reader for The Tarot Guild, and a much sought after Intuitive Reader hired for both corporate and private events. In addition, she has a YouTube channel where you can view and subscribe to her weekly vibes. If you'd like to personally tune-in to Maggie's unique and highly accurate vibe, for yourself, you can find her at PsychicAccess.com.