The Art Of Receiving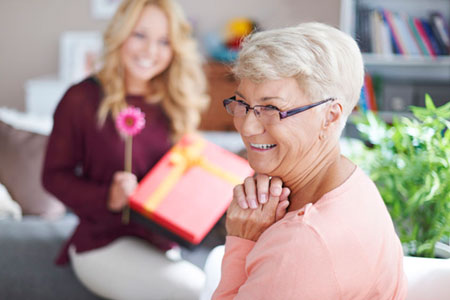 Are you good a receiving? When you are given a compliment, how do you usually react? For many of us the typical reaction to a compliment is to offer it right back, or to immediately discount it. "Oh no, this old thing…" Seem familiar? Even if we manage to say thank you, words of denial or discounting often follow.
The same applies to being open to receiving help. Asking for, and accepting help from others, is often difficult for people. Especially women struggle with this, because many of us believe we are expected to do it all ourselves, and to also do it well!
Giving and receiving are two sides of the same coin. Yes, it is basically the same thing. You can't have one without the other.  It obviously does not feel good when you give something to someone, only to have it rejected, diminished or discounted. There is no reciprocal flow of energy when one is giving, but no one is receiving. Receiving is necessary for all of us!
Receiving is an art and it requires being conscious, sensitive and self-aware. First we must pay attention to our dysfunctional patterns of receiving (and not receiving), and then we must consciously work on becoming a more active and aware receiver.
This can be achieved in three simple steps. First, make an effort to listen, hear and acknowledge the gifts, compliments or help being offered. Second, taking it in fully, embrace it with your being and heart center. Finally, allow yourself to move into the state of gratitude for what has been given.
Gracious acceptance is an art – an art which most never bother to cultivate. We think that we have to learn how to give, but we forget about accepting things, which can be much harder than giving ~ Alexander McCall Smith
Simple. Right? Maybe, and yet maybe not. This takes constant practice and true self-awareness. We often get to step one, but then immediately shift in to 'giving back,' which undoes the energy exchange. If we make it to step two that is great, but rarely do we move ourselves to that true, final state of gratitude.
So, here's a way to practice with receiving compliments. When you receive a compliment, take a deep breath in and just say, "Thank you." Then continue by saying, "I know it's true, could you repeat that?" People are typically happy to see others truly making an effort to actually receive a compliment, and are usually more than happy to repeat what they said.
While they repeat it, take another breath, say thank you and allow the compliment to settle for a moment. This will allow the mind and body to move into that delicious state of gratitude.
The above exercise is magnetic. It will help shift your way of being in the world, build your confidence and increase your self-love. As this happens, you will find that you actually have more to give and will do it more consciously and more effectively.
And that is the true flow of receiving and giving.

About The Author: Suzenn

Suzenn is a gifted intuitive reader, channel, counselor and guide, and is currently a staple at two local fairs in Texas, where she currently resides. She has been providing accurate readings for over twenty-two years, and she has followed the synchronicities that have led her to new and exciting territories, outside the norm. Her practice has included readings at a large metaphysical bookstore, at conventions, and for clients on-line, all of which have helped her to cultivate an established client base. Clients include CEOs, fitness personalities, and she's the reader that other psychics go to for advice! Her readings include remote energy sessions, Mediumship, inner child healing, chakra balancing and psych-soma healing. If you'd like to experience a major shift in your life, release past trauma, or just be able to embrace your inner child, you'll not encounter a more caring, non-judgmental, and uniquely gifted reader. You can find Suzenn at PsychicAccess.com.