Into The Primal Depths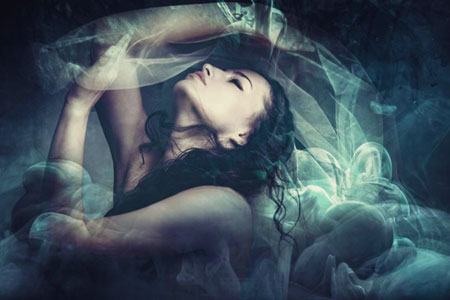 We, as human beings, are voraciously indulgent pleasure seeking creatures! We are instinctively driven by deeply embedded, erotic, sensual needs that constantly demand our attention. By neglecting or denying the 'sense of urgency' of these needs, a physical and mental 'mortal combat' ensues.
We are stimulated by the thrilling edge of unknown horizons in forbidden sensuality. Ah! How we yearn for the ecstatic privilege to contact or engage the gregarious primal roar, and then, release its euphoric, orgasmic sigh of creation.
It is in those times alone, that we are reconciled with the ramified, non-negotiable urge to devote all we have, are and ever will be to that which cannot be expressed or even uttered in human words. During that inexpressible eternal moment, pain and pleasure are suspended forevermore.
How often are we aware enough to recognize and incorporate the electricity of immediate wonder into our lives in the instant it occurs? On the other hand, can we ever be cognizant enough to embrace the disguised blessings hidden deeply within pain?
Our motives are never pure! If, at any minute we deceive ourselves into believing they are, we suffer immeasurably through undisclosed discontent and unparalleled dissatisfaction. From that point on, we begin to build walls around us for protection. We misinterpret our own self-inflicted paranoia as a mal-aligned intent coming from another.
We judge, criticize and condemn the smallest matters. We're continuously on edge, refusing to see how insidious our demands are. The malicious face of pretense will catch us when we are the least bit aware. Most especially, when we honestly believe we are the ones without guile.
You can take the human out of the jungle, but you can't take the jungle out of the human ~ Abhijit Naskar
All of us, in life, because of the various episodes that occur, weep at one time or another. In the rooted depth of our most sorrowful times, the limbs of that unforgettable pain are knotted and twisted in our hearts and minds. At the precise moment disaster occurs, we have no idea how, when or whether we'll even survive the torrential torment of emotional loss. But, somehow we do manage to survive.
Almost as a revealing monument sanctioned as an incurable testimony of our enduring strength of divine will. The aged weeping willow reminds us how it bends through the various trials, tribulations, tests, and times of grief associated in those horrendous whirlwinds of continuous change. The magnificent gracious beauty befittingly astounds us but only after we have encountered many of life's bitterly entwined tests and trials.
The solicitous angle from which we operate in our lives determines the roads we choose when traveling. Some of us like challenges. Some of us don't like to be bothered with too many details. Some of us like the hidden mystery involved in irresolute problems. Some of us like the emotional drama attached to believing we can move mountains. Some of us are clueless. No matter how we approach the various situations in our lives, we hardly ever deviate from the proposed angle which guides us.
Human beings are very skilled at pretending they are not what they are, and ignoring what is inside them. This includes ignoring their natural instincts, their primal instincts ~ Robert Black
Do we glide through our days unaware of the electric, sensual energy pervading our universe with each breath we take? Are we so busy, invested in meaningless trivial time-consuming matters which amount to nothing in reality, our precious days escape us without acknowledging and honoring the regenerating stillness imbued? Can we stop long enough to say, "I love thee" for allowing us to live in the swirling mass of vibrating, pulsating divine ether?
Or, will we continue to be so incontrovertibly entwined in the distractions of everyday living that we forget to appreciate the dirty little insignificant things? If we don't take the necessary time to stop and take inventory of the noxious thoughts and attitudes which result from then, we will mire ourselves up in stinking trash that will be overrun by rats, rodents and rivalries. We need not assume our lives are odor free, just because we don't smell the stench. It's there, we've just gotten used to the self-indulged, putrid scent.

About The Author: Paula

Paula's innate metaphysical abilities, artistic talents, and entrepreneurial acumen have mixed wonderfully together to create a social media sensation, one who enjoys great popularity on LinkedIn, Instragram, Facebook, and YouTube. She dispenses not only accurate and intuitive divine wisdom but has artistic offerings that include vibrational soul paintings displayed on the internet, and she is a gifted singer and music producer as well. Her calling as a cosmic therapist led her to be the founder of MODE (Masters of Divine Essence) Cosmic Therapy Research Center, where she's published numerous books, songs and plays, and has held many workshops and seminars throughout the Southeast. She even produced her own program, The Mode of Cosmic Therapy Interactive Television Show that aired on WRTN, in Raleigh, NC, for ten years. Paula is also an avid astrologer who interprets the stars and predicts your chart energies at work. If you'd like a detailed glimpse at your own cosmic blueprint, or you have burning questions that require clear answers, Paula will employ all the tools and talents at her disposal for a reading that will dazzle and transform your life. You can find Paula at PsychicAccess.com.