Support From Our Loved Ones In Spirit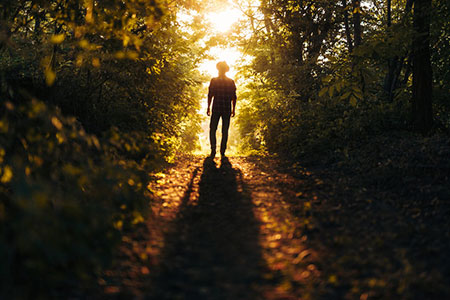 A decade ago, I received a phone call that would change my life forever. My father, while on his yearly hunting trip in Michigan, had suffered a massive heart attack and passed away.
After his passing my mother no longer wanted, nor needed the family home my father had built for us. It was just too big, with too much land for her to maintain on her own. So, after much discussion on what to do, it was decided that my husband and I would take over the house and keep it in the family.
About a year after my father had passed, my mother found a smaller place for herself and moved out, and we moved in. At first it was weird living in my parents' home. For example, I found it hard to change things, without first asking permission from my mother. It almost felt like it was not my home.
The house was fairly new when we moved in. It was not the home I grew up in and was built long after I had moved out to get married. Yet, there was still that longing for my father's approval, since he personally built the house.
Then one day, out of the blue, it all changed in an instant. It was about a year after we had moved in. I was driving down the mile-long drive way, coming home in a particularly happy mood. As I rounded the corner, to turn into the garage, I saw him plain as day. There, walking out of the woods, as he had done so many times when he knew us kids were coming over, was my father! I was so shocked I almost hit the garage door.
Being a medium, I am accustomed to seeing spirit, but when it's your own father, it's an unusual situation. I was flooded with emotion and could not hold the energy connection. My father was gone again, as quickly as he had appeared.
People are much more receptive to spiritual messages while they are dreaming. Departed loved ones can view dream-time as an opportunity to get across messages to you ~ Danyelle Simone
After that first time, I was desperate to see my father again. I begged and pleaded for him to come to me again. And he did. But each time he did, I burst into tears again! Because of my intense emotion, I could never hold the connection for longer than a few seconds.
Not being one to give up that easily, my father must have decided that coming to me in a surprising way, like he had been doing, was never going to work. So, instead he started coming to me in my dreams. I was delighted when the first dream happened, although I never knew it was possible to actually cry while asleep. I managed to do so the first time my father came to me in a dream.
During that first dream my father showed me the section of the house I was now living in. I remember thinking in the dream, why I hadn't seen this part of the house before? It's funny what our mind thinks while in the dream state. During the dream he also made it clear that I was free to change whatever I wanted to change in the rest of the house, which gave me great peace.
I can remember, after the first dream, actually waking up still halfway in the dream wanting to go find those rooms connected to the house that my father had showed me. It wasn't until I was fully awake that the full meaning of what my father was trying to show me became clear. He was showing me that he was still very much here and very much a part of my life, as well as the house that he had built. Yet, at the same time he was giving me permission to make the changes I wanted to make to the house.
Over the past ten years his visits have become less frequent. I still sometimes see him walking out of the woods during this time of the year, during deer hunting season. And every year on my birthday I get the amazing gift of seeing him in my dreams. But now the dreams are usually all about what the next year as in store for me…a glimpse into future.
The life of a soul on earth lasts beyond departure. You will always feel that life touching yours, that voice speaking to you. They live on in your life and in the lives of all others that knew them ~ Angelo Patri
But the absolute best part of each year, since my father's passing, has been around October. During this time, each and every year, I get a 'gift' so to speak. It's been happening every year like clockwork and I have learned to look forward to this time of year now. Oddly, it happens every time between August 30th, my father's birthday, and the date of his passing on October 30th. Every year around this time period, my father takes a problem or situation I have been struggling with in life, and he fixes it for me.
For example, he resolved a repair problem we had with the house earlier this year. We had a hard time finding a qualified person in our area to fix this rare problem, and out of the blue the ideal repair person appeared to solve the problem.
One year we were having problems with my dogs repeatedly squeezing between the railings on the deck and going on adventures in the woods, which had me walking around in the woods for hours, frantically searching for them. I can remember, while walking in the woods, having a mental conversation with my father about why he chose to build the deck the way he did.
Well, sure enough, in August that same year a strong wind storm came along and blew off the entire railing on the deck. And just like that I got a new dog-proof railing all the way around the deck, courtesy of our insurance provider.
These are just a few of the situations my father has helped me with over the years. Others are too personal to discuss here, but the one thing that is for sure is that my father, no matter what, sends me a gift every year. I know for sure, from personal experience, that our loved ones continue to support, guide and protect us after their passing.

About The Author: June

June is an experienced and gifted reader in Indiana, near Lake Michigan, who enjoys the peace of the woods and the energy it provides her. A double Taurus, led by earthy and dependable Venus, she will help you to navigate your life on a steady course. Many come to her at a crossroads, not knowing which way to turn, or even how to move forward. Not only does June lift the obstacles and show you your path, but she also helps you to embrace the positive light that will guide you. She's helped numerous people in all areas of life for the past fifteen years, and has honed her abilities as an active member of her Spiritualist Church, by helping others in her congregation. For many years she's enjoyed a front row seat to witness all the events play out, just as she was shown by her Guides. June inherited her gifts from the generations that came before her, but she also finds new skills popping up unexpectedly with clients. Mary and Suzie are the Spirit Guides she works with, and she delivers their messages in a style that suits each of her client's particular needs that day. June has been a high-rated reader on the internet, as well, and enjoys the accessibility the internet provides, so people can easily find her. If you'd like to find a highly accurate reader who gets her messages out quickly, and who can raise you up high on your path, you can find June at PsychicAccess.com.


This site uses Akismet to reduce spam. Learn how your comment data is processed.