Angelscopes December 2019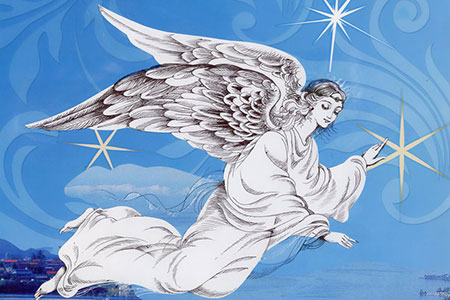 Instead of doing my usual Tarotscopes for the month, I felt guided to work for December with my Healing with the Angels Oracle Cards by Doreen Virtue.
December celebrates the anniversary of the birth of Jesus, and I thought a message from the Angels would benefit not only those of the Christian faith, but also those who believe there is more to this life than meets the eye.
Whatever your belief or your faith, I hope that your Angel card for this month brings you an inspirational or healing message to carry with you into 2020
ARIES (Mar 21 – Apr 20)
Retreat
Taking a step back from the stresses and strains of your daily life may be what's best for you this month, Aries. Perhaps you've been overdoing it by shouldering all the responsibility for making the festive season joyful for others, but neglecting your own well-being. Do what you can to delegate, as others may be only too happy to help when asked. Make time for a massage, nail treatment, meet up for coffee-and-cake with friends, do anything that gives you quality a 'time out.' Retreat also relates to calming your mind by retreating to a quiet, peaceful space, settling in a comfy chair, or laying on your bed, closing your eyes and breathing deeply. Why not make this a New Year's resolution? You deserve it.
TAURUS (Apr 21 – May 21)
Miracles
This month has the potential to bring you your own personal miracle, Taurus. You may have been asking the Angels to intercede on your behalf in a stressful situation, or maybe for physical, emotional or mental healing, for you or someone you love. You may have been experiencing relationship difficulties, financial hardship, family problems. Whatever the reason causing your stress and anxiety, your pleas for help have been heard and answered with a miracle granted with celestial love. There may be good news causing a celebration from a close member of the family regarding a forthcoming event in 2020. You will end this year happier and more content that you may have felt for some time. Your own Christmas miracle!
GEMINI (May 22 – June 21)
Archangel Michael
Archangel Michael's name means "He who is as God." He is the chief of all the Angels. He is concerned chiefly with protection, truth, integrity, courage and strength. If you need assistance with any of these, he is the Angel you should summon. Seeing him in your mind, or feeling a sense of comfort or warmth, lets you know he is with you. As this is the card drawn for you Gemini for this final month of 2019. Take comfort from this, knowing that whatever, or whoever, is troubling you can be overcome and defeated by calling on Michael, to wield his mighty sword to achieve justice on your behalf. Direct your prayers and calls for help directly to him and experience his presence at your side, sword drawn, ready to battle.
CANCER (June 22 – July 22)
Meditation
It appears that meditating is something you should be planning to integrate into your life this month, and for the future, Cancer. If you haven't already done so, now would be the time to get into meditation on a regular basis, either by yourself or with like-minded friends. You may have a very busy, stressful life and meditation could be just what you need for balance and to keep you sane! As a Water sign you are a gentle soul so, when conflict or stress of any kind, rears its ugly head, you dive for cover under that shell of yours. Learning to meditate will help you take it all in your stride, just by regulating your breathing and helping you find your calm and inner peace. It could be your personal 'secret weapon' and one which you can switch on at will.
LEO (July 23 – Aug 21)
New Beginnings
It will certainly be a brand new year for you, Leo. How exciting! You have the potential to create new beginnings, or experience positive changes that may come your way this month. If you've been considering striking out on your own in launching a business, proposing marriage, getting pregnant, changing career, or aiming for a better job, or finding a new home, then now's your chance. The Angels are telling you what's possible, but it will be up to you to put things in motion. It will take strength and determination to create your new beginnings, or have the foresight to grab any new opportunities offered with both hands. Up to you, Leo.
VIRGO (Aug 22 – Sep 23)
Nature
Our beautiful Earth Mother, Gaia, epitomizes nature. She creates beauty for our eyes to feast upon, and nourishes and shelters us. Allow her gifts to nurture you by returning to nature this month. Perhaps in the hustle and bustle of family and work responsibilities, you've become trapped, so your ability to just 'breathe' freely has gradually become stifled. Reconnecting with the great outdoors is the restorative tonic you may need, and the good news is that it's free! Trees and water are especially beneficial in promoting calm and peace. Find a forest, ideally with a stream or river running through it. Sit on Mother Earth's lap, the Good Earth, with your back up against a tree, beside the water, and ask Gaia for her blessing. Get into the habit of revisiting nature when you feel in need of comfort and restoration. Gaia will welcome you with open arms.
LIBRA (Sep 24 – Oct 23)
Study
Studying is a means to open new doors, Libra, and this is the path you should be considering this month, if you haven't already done so. If you've been neglecting your studies in recent times, then it's not too late to buckle down and get back on track. Considering a course of study, no matter how old you are, could inspire you in achieving goals perhaps put aside some years ago due to life's obstacles. This is the right time to recover and dust off those dreams, and do something about making them a reality. Whatever course you decide to enroll for, ensure it's something that you can stick to, not something you start, get fed-up with, because it's a commitment, and then abandon. Whatever you choose to study, it should excite you, and have you planning how and where best to utilize your new skills, especially if it is to benefit or serve other people. Life is an ongoing lesson. Use what you have already learned in enriching your life for the future.
SCORPIO (Oct 24 – Nov 22)
Body Care
December may not be the most appropriate month to consider a new diet, beauty routine or fitness regime. We usually pursue those things in January, after the holiday indulgence and Christmas festivities. However, you may need to prioritize your physical health and well-being before the new year arrives. This could be related to losing some weight, getting more exercise or adapting your unhealthy eating habits to include healthier choices. By all means enjoy your festive season, but commit to changing your lifestyle to create a healthier you, physically, emotionally and mentally. You are solely responsible for your body and your wellness. Show your body the love, care and attention it deserves. Make it your goal to not indulge too much this holiday season. You will have a head start over the rest of the Zodiac, by the time the New Year arrives.
SAGITTARIUS (Nov 23 – Dec 22)
Listening
As a lovely Fire sign, Sagittarius, you're not one to stand still long enough to listen. However, this month you may need to stay still long enough to pay attention to anyone around you, who needs you to listen to what they have to say. Someone close to you may be dealing with a serious problem or stressful situation on their own, and you've not noticed, because of your busy lifestyle. Take a look around. Become aware of their plight. On the other hand, perhaps you need the Angels to listen to you? If so, reach out to them with what's troubling you. They're not allowed to intercede if you haven't given them permission. This card is your assurance that they are around, ready to listen and intercede on your behalf, only needing your 'say so' in order to act.
CAPRICORN (Dec 23 – Jan 20)
Answered Prayer
You may be in need of a holiday miracle at this particular time in your life, Capricorn, and the Angels are promising to grant it. This year may have been particularly stressful for you, with many problems, difficulties and trials. The Angels are assuring you that, through all the dark times, they've been around you with their celestial presence. They are sending you healing. This answered prayer may not be experienced in December, but rest assured it will come when the Angels deem its timing to be the most appropriate. They ask that you grant yourself peace of mind in the knowledge that their gift to you will arrive when you need it most.
AQUARIUS (Jan 21 – Feb 19)
Friendship
Arrange to spend time with and enjoy the company of your friends this month, Aquarius. This month is a 'heads up' to reconnect with friends that, for whatever reason, you may have lost touch with over the past year. They may have missed you too and will welcome the opportunity to meet up and reminisce over the 'good old times.' True friendships don't mean living in each other's pockets, but just being aware that you're always there for each other, no matter what. Take steps to heal any broken relationships with friends you may have come to regret losing. There is also the potential for reclaiming your friendship with yourself this month. Occasionally, we can be our own worst enemy and harder than ourselves than others could, or would be. If you're guilty of this, then resolve to be kinder and more forgiving of yourself. You're a lovely person with a beautiful spirit Aquarius, so celebrate it!
PISCES (Feb 20 – March 20)
Trust
Oh Pisces, you tend to trust too easily, and sometimes it all ends in tears, doesn't it? As a Water sign you possess a very soft heart, which has the potential to be easily wounded by the sharp words or actions of others. Perhaps you can relate to events in the recent past? However, there is hope. The Angels are asking you not to lose faith in the decency of most people. Unfortunately, there are people in life who will cause you misery or heartbreak, whether knowingly or not. It's the same for everyone. Learn to trust again, and do not lump everyone together as untrustworthy, and then potentially lose a meaningful relationship. Continue to focus on regaining your trust in the goodness of your fellow human beings in the coming year.

About The Author: Cathi

From her seaside home in England, where she can fully focus on her gifts as a Psychic and a Medium, Cathi has nourished her natural abilities and built a life that feeds her calling. You may have seen her on Sky Channel's Psychic Today, perhaps read her articles in Fate and Fortune magazine, you may have read her column in BFG Magazine, were perhaps inspired by the motivational/inspirational quotes she's written for a US psychic website, you may have read her blog or monthly Tarotscope on her own thriving website, maybe you attended the yearly London Tarot Festival in June where she actively provides readings, or perhaps you were fortunate to encounter her at one of the many private events and corporate functions where she's asked to appear. If you've sampled Cathi in any one of these venues, or elsewhere, you'd agree with her many devoted clients that her amazing insights come from an ethereal place that only a true Piscean, like herself, can inhabit. If you'd like a reading with this highly attuned, compassionate and accurate reader, you can find Cathi at: PsychicAccess.com.