Quick Ways To Manifest Abundance In Your Life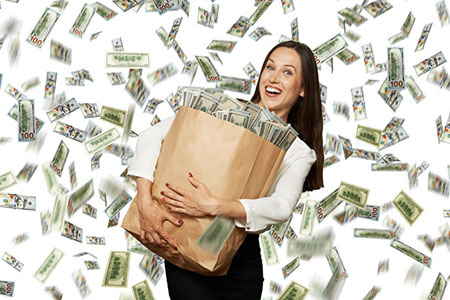 Could you use a little, or perhaps a lot of extra cash? I think most everyone can. Few people would mind a little financial flow increase. But if you're like many people in this busy day and age, you don't always have the time to focus on manifesting abundance in your life. Below I've outlined a few quick fixes for using the law of attracting to bring cash flow your way.
But first, let's define abundance. The word certainly has a monetary connotation to it, but abundance is even bigger and better than a few extra bucks in your pocket. Abundance means an overflow, and generous current of all that is needed to live a prosperous, fulfilled life.
And although love isn't always enough to keep us warm at night, there are many things in this world that are more needed beyond the cash notes, such as family, love, home. But what do these things have in common? They are things of value. Things of value are different than money, but they all benefit from the availability of money. Whereas money itself, means very little without things of value.
Knowing and understanding the energy of abundance is the first and most important step in manifesting abundance. With that in mind, let's consider five quick ways to manifest greater abundance..
Crystals
Invest in a few abundance crystals or 'money stones.' There are many options available, but a few of the main players are Citrine, Green Aventurine and Lodestone. Lodestone can be charged with magnetic sand before being put to use, for added potency.

Take a few moments and program your abundance crystals. Think on which forms of abundance is most needed in your life, and the ways that you might like to see it enter into your life. Concentrate on this as you hold your crystals, until you feel that the message has been received. Crystals can be placed on an altar or in an auspicious location, or carried on your person daily, or for important event.
Abundance is not something we acquire. It is something we tune into ~ Wayne Dyer
Waxing Moon
Try to initiate abundance by setting your intention during a waxing moon. The waxing moon signifies increase, and so the cosmos will be better aligned to your wishes and desires.
Plan to carry out activities purported to bring in cash flow and abundance during this moon cycle. Such activities may include, but are not limited to, opening a checking or savings account; making any sort of investment; hiring a financial advisor; asking your boss for a raise, or selling an item you no longer us.
Herbs And Spices
Use abundance herbs and spices to attract prosperity and well-being. Like crystals, certain herbs and spices correspond to wealth. Use these them in your food, make a 'mojo bag,' charge your crystals, or enhance your abundance altar's energy. Good options include mint, basil, cinnamon, rosemary, cloves, poppy seeds, and sage leaves.
Thoughts
Align your thinking in terms of energy flow, abundance and gratitude. Try to allow yourself to believe in the ease of flow of abundance coming your way. The energy of abundance is gentle and peaceful. Think of the things abundance brings, such as luxury and ease!
Don't think in terms of despair, worry, anxiety or desperate needing. Rather, release your worries to the Universe and tell yourself that abundance is flowing your way every day.
The key to abundance is meeting limited circumstances with unlimited thoughts ~ Marianne Williamson
Don't worry if you struggle with this step. The only thing that matters here is that you try. As long as you continue to try, you will in time be able to train your mind to manifest abundance more consistently.
Be patient with yourself, and keep doing whatever you need to do. Imagine yourself in front of the ocean. Feel that gentle, rolling tide of abundance flowing towards you.
Conscious Reminders
In line with the above step, find ways to subconsciously remind yourself of abundance. This can be done with images on a vision board, your phone, affirmations that your regularly read, or Feng Shui.
Visual images speak loudly and clearly to the subconscious, so try to find a way to put an image pertaining to financial flow in your everyday field of vision. When you notice these images, try to think in terms of flow and abundance.

About The Author: Layna

Layna is a third-generation psychic, with abilities she inherited from both sides of her family. Currently she lives in Boulder, Colorado, but she has been serving clients professionally since she was twenty-one and has practiced in many places. For over thirteen years now, she's provided life-transforming guidance and has armed clients with the valuable information they need to decide their best course of action. She is also a talented astrologer and a clairvoyant empathic, who can accurately get into the heads of anyone and also predict the energies at play based on a client's natal astrological chart. Layna makes her mark wherever she goes because of her talents, and has built a successful practice because of the warmth, honesty and trust she creates in her environment. There is no off-the-clock with Layna. Once you're her client, her compassionate nature works overtime, sending you positive energy and prayers she would never charge you for! If you would like to sample her amazing psychic antenna, you can find Layna at PsychicAccess.com.