The Dreary Room Of Unbearable, Silent Suffering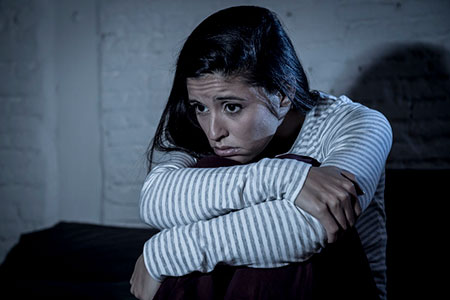 Some people spend their life as if they are trapped in a cheap motel room with drawn, yellowed shades and a 'do not disturb' sign on the door. Is this possibly your life too?
To ponder such an important question, to be sure, brings an illuminating insight not necessarily appreciated until consciously recognized – but not while holding a 'passing fancy' flippant attitude of nonchalant concern. Long-awaited release often only arrives after the slit, which has formed from those unbalanced motel drapes, offers a hint of brightness to the dreary room of denial and pretense.
Too many days of too many lives are dissipated in unexpressed anger, masked as benevolent concern. Until you come to grips with the gnawing unsettling disturbance, in your chest, you will, in no way, be able to embrace the fullness of unfulfilled potential in your life.
Raw adventure, insatiable variety, fun-loving spontaneity, and serendipitous enjoyment: words which now maybe symbolize an alien state of mind for you, are but a numbing reminder of how easily things which were so much a part of your life have slipped into another phase, which does no longer interests you in the least. In other words, could it be that you have become an unbearable bore to yourself and others?
You know how to create unending comedy in all of our endeavors, but may have forsaken the practice for a duller, somber, 'more responsible,' serious nature… which you feel is more appropriate and acceptable. You need to be more committed, you say, and much more dependable, in order to be happy. But, pray tell me, what has happened to your contented spirit? Where is your vivaciousness and vitality? By working so hard to achieve a specific way of producing certain results, you have deposited yourself in a sealed bank vault where there seems to be no possible method of withdrawal.
The cause of suffering is that the unbounded Self is overshadowed by the world ~ Patanjali
How long will you continue this ludicrous charade? How long will you persist in running ram shod over the effervescent passion which lies buried in your soul? You must address the sullen bleakness which has enveloped your life-giving naturalness. Your face is drawn with an unmistakable taut chagrin. Gaze deeply into the mirror without the callous indifference of disregard displayed. Pause and stare into your eyes which will not lie, even when you spend countless hours trying to convince the source you are doing exactly what you want to do.
You possess an incredible resilient secret disclosed only to you. To occupy and reap the extraordinary benefits of your state of existence requires that you show up – front and center. In other words: be where your feet are! Stop with the whining, pining, criticizing, condemning, and incessant complaining. The past is gone. Dead. Buried. You simply must turn it loose; it has certainly turned you loose.
And, just as imperative, you must cease immediately, making elaborate plans for the future. What future? Now is all you have. The future unfolds its stupendous glory in each second you breathe. But, because you are neither here nor there, you miss the parade you are supposed to lead.
Are you the least bit invested in you? Or, have you sold out to the highest bidder, simply because you are so disgusted and angry believing life has robbed or cheated you in some way? Nonsense. You have never been cheated out of anything, or anyone. Your ideas are distorted and your thoughts out of touch with the present.
Remember: We all get what we tolerate. So stop tolerating excuses within yourself, limiting beliefs of the past, or half-assed or fearful states ~ Tony Robbins
Who wants to eat old stale bread? No one. And, who wants to try to live a life not conducive with the seasons at hand? Have you ever tried to listen to a band when they are out of sync? Not pleasant at all. You can experience a vibrantly, satisfying, pleasurable, and productive life if you actually show up for it… exactly and precisely as it unfolds. Here. Now.
Are you willing for many people to depend upon you? I'm not talking about you being responsible for their happiness and welfare. I am referring to them depending upon you to fill the slot of which only you can inhabit. Your world will never work properly until your take your rightful position. More than you realize, the omnificent task of placing your shoulders to the plowshare awaits your arrival. Cut through the fog of self-indulgence to unleashed freedom.
Your immeasurable gift shines through the unambiguous gleam in your eyes. You are convincing before you say anything. You know that! Admit it, when acknowledged, you must declare, that your life has been relatively easy for you. That's because you don't really view obstacles as barriers. You see them as the sideline activity of creative distraction which has formulated your game.
Many people are not so fortunate to be able to see the big picture, while participating in it consciously. That's what makes it hard for them to throw back those yellow motel shades in order to let the dance of miraculous light in. You, on the other hand, are so doggone lucky to know what the real friggin' deal is. So, what are you waiting for?

About The Author: Paula

Paula's innate metaphysical abilities, artistic talents, and entrepreneurial acumen have mixed wonderfully together to create a social media sensation, one who enjoys great popularity on LinkedIn, Instragram, Facebook, and YouTube. She dispenses not only accurate and intuitive divine wisdom but has artistic offerings that include vibrational soul paintings displayed on the internet, and she is a gifted singer and music producer as well. Her calling as a cosmic therapist led her to be the founder of MODE (Masters of Divine Essence) Cosmic Therapy Research Center, where she's published numerous books, songs and plays, and has held many workshops and seminars throughout the Southeast. She even produced her own program, The Mode of Cosmic Therapy Interactive Television Show that aired on WRTN, in Raleigh, NC, for ten years. Paula is also an avid astrologer who interprets the stars and predicts your chart energies at work. If you'd like a detailed glimpse at your own cosmic blueprint, or you have burning questions that require clear answers, Paula will employ all the tools and talents at her disposal for a reading that will dazzle and transform your life. You can find Paula at PsychicAccess.com.