Let Your Animals Speak For Themselves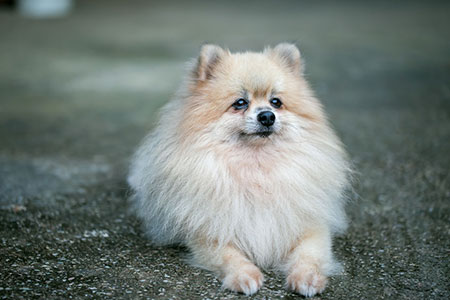 Owning a pet is one of the greatest blessings in life. I am an animal lover through and through, especially dogs. Currently my family owns five Pomeranians, a Pitbull, and a Shih Tzu. Yes, a total of seven well-cared for and much loved dogs, each with its own quirky personality and unique needs. There is not a day goes by that one of them does not do something wacky to make me laugh. Owning dogs truly is a joy!
Recently one of my aging Pomeranians, 15 years old to be exact, became blind. At first she was scared of everything and required a lot of extra care. I debated whether it might be time to make the hard decision to let her go and be at peace?
Being a psychic medium, I know from personal experience that leaving this plane of existence is not the end for humans, and neither is it for animals. And sometimes letting go of a beloved pet is the best thing for the animal, especially when keeping them here only prolongs their suffering. I could never allow a beloved dog to suffer. So, I went back and forth with this difficult decision for weeks, asking what would be best for her. Was I being selfish in keep her here? Was she suffering needlessly?
As you probably know, when one is very close to a situation and your emotions are raw, we get caught up in the situation that is immediately in front of us, and we struggle to see things objectively. In these situations it also does not help to have any psychic abilities! I was simply too close to the situation. I couldn't see clearly what was best for my pet.
You'll be amazed at what can happen if you accept the feeling, thought, emotion, picture, or impression that you get when you are quietly attentive to an animal and continue your communication from there ~ Penelope Smith
I needed help and I needed it now, so I contacted one of my dear friends who is also a psychic medium, and asked her to give me a reading on the situation. To my amazement, I was told that my beloved dog actually still wanted to live. She wanted to make it work, and she wasn't ready to go. So, I gave her some more time, and I let her adjust to her new situation in her own way. And she did! I am happy to report, that despite being blind, she is now running and playing again… like nothing ever happened.
Through this experience, I have learned that although animals cannot speak, they can and do communicate with us. They do let their wants and needs be known. We just have to be patient and receptive enough to wait for the answer, and sometimes the answer is better than we hoped for.
I am now so grateful that I did not act on my initial feelings. Had I acted in haste, I would have made a very bad decision and not given my dog the chance to adapt. I would have deprived her of the rest of her life experience. She deserved to be given this chance!

About The Author: June

June is an experienced and gifted reader in Indiana, near Lake Michigan, who enjoys the peace of the woods and the energy it provides her. A double Taurus, led by earthy and dependable Venus, she will help you to navigate your life on a steady course. Many come to her at a crossroads, not knowing which way to turn, or even how to move forward. Not only does June lift the obstacles and show you your path, but she also helps you to embrace the positive light that will guide you. She's helped numerous people in all areas of life for the past fifteen years, and has honed her abilities as an active member of her Spiritualist Church, by helping others in her congregation. For many years she's enjoyed a front row seat to witness all the events play out, just as she was shown by her Guides. June inherited her gifts from the generations that came before her, but she also finds new skills popping up unexpectedly with clients. Mary and Suzie are the Spirit Guides she works with, and she delivers their messages in a style that suits each of her client's particular needs that day. June has been a high-rated reader on the internet, as well, and enjoys the accessibility the internet provides, so people can easily find her. If you'd like to find a highly accurate reader who gets her messages out quickly, and who can raise you up high on your path, you can find June at PsychicAccess.com.


This site uses Akismet to reduce spam. Learn how your comment data is processed.