The Confusion Of Psychic Bingeing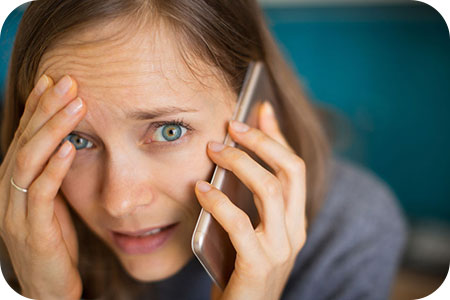 Have you ever had a life question weighing on you so heavily, that you have called several psychics trying to get the same answer, or some new information? Do you ever call different psychic readers and ask the same question over and over? And when you don't get the same answer from everyone, do you start to doubt their readings? This bingeing approach to consulting psychics is a road to disaster, and extreme confusion.
I am usually concerned when someone calls me, after they have asked several other psychics the same question. I ask myself if the client is attempting to get the answer they want, or are they just so desperate that they are looking for something that fits? I sometimes hear, "Well, another psychic told me that he was coming back to me." Or, "Another psychic told me that I would get the job, and now you are telling me I won't?"
Sometimes what we want to hear is not necessarily the truth, neither is it always what would be good for us to hear. I understand why some people feel the need to go from one psychic to another, shopping for the 'best answers.' Usually the caller's question is just very painful to deal with, and they want to be comforted, or at least just heard on a deeper level. This is very understandable. But consulting so many different psychics with diverse styles and varying approaches to reading, can lead to confusion and obsession, even dependency, and sometimes a reckless expense of one's hard-earned money.
Beware those psychics who allow you to return to them repeatedly, only to ask the same question again, and again, and again. You might want to ask yourself why they are doing it, instead of offering other suggestions to you. To be honest, it is unlikely for any psychic to receive an influx of new information every time you ask them the same question, especially if the topic has already been covered extensively.
People would far rather be handed an easy lie than search for a difficult truth, especially if it suits their own purposes ~ Joe Abercrombie
My recommendation is to choose at the most two, maybe three psychics whom you trust to work with, and go from there. You can even use one psychic for readings on relationships, and another psychic for work. You may like one reader for his compassion and tact, while you prefer another for her more direct approach. This way of using psychics is much more constructive, than shopping around… jumping from one psychic to another asking the same question over and over.
And please remember, if you don't get the answers you had hoped for, then maybe the answers you wanted are not what is best for your highest good. Perhaps it's time for you to hear a different truth? By going from one psychic to another with the same question, you only cheat yourself out of the best guidance, and it is also unfair to the psychic who has to repeat the same answer to you every time you ask that same question.
We swallow greedily any lie that flatters us, but we sip only little by little at a truth we find bitter ~ Denis Diderot
I encourage you to carefully consider what you are really wanting to hear when you request a psychic reading. And then ask yourself what you are willing to hear. If you are stuck on one answer, maybe that is not the time to be calling a psychic. Save your time and money. Wait until you are in a better place to hear the solution that is meant for you, no matter what. Be brave and pay attention to your intuition. Only call a reputable psychic when you are ready to hear whatever serves you highest good.

About The Author: Mataya

Mataya's Light Readings are a gift from a higher source that she's worked hard to develop throughout her life. She understands more than most what it's like to struggle with emotional and physical roadblocks and with a Masters in Counseling, she has spent many years using her natural psychic gifts and acquired knowledge to see clients through difficult patches. Since 1988, she's professionally guided others, using Tarot and other divination tools, at various psychic fairs in California. She's worked one-on-one with clients in metaphysical shops, and enjoys a successful online practice. She's channeled energies from her guides and passed on accurate information to her clients. A true Sensitive, Mataya takes on the energy of others, feeling and sensing their challenges. Her name came to her out of the blue one day and she has since learned that Mataya mean's God's gift. If you'd like to experience Mataya's incredible gifts for yourself, try a reading with this compassionate and accurate reader. You can find Mataya at PsychicAccess.com.


One Response to The Confusion Of Psychic Bingeing