Create Your Best Life With Self-Hypnosis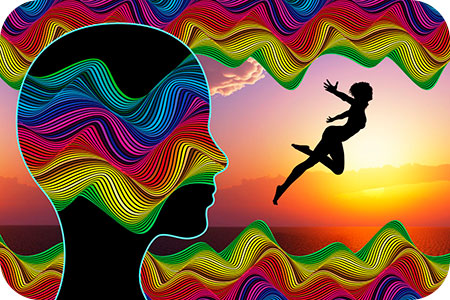 Hypnosis is a tool for foraging… and forging the mind. It encourages your subconscious mind to allow the changes you desire in your conscious life.
You have planted in your subconscious mind all the memories of your lifetime – everything that you have ever seen, heard, smelt, tasted, felt, or thought. That's right, all your senses and feelings, all that you have ever known, is seeded in your subconscious mind.
Sometimes the mind gets short-circuited or bent-out-of-shape, but you can re-forge those pathways. You have the ability if you have the desire. Open for change. Relax your feelings. Be your best.
Hypnosis is a state that everyone experiences each day. You daydream, space out, get into a zone, read a book, get into a television show, or pull into the driveway and wonder who drove the car home, because you don't remember doing it! All these experiences are hypnoidal states.
Right now, while reading this, you are in a light stage of hypnosis and your subconscious mind is making all kinds of connections and computations relating to the statements that I have written. As you continue reading this blog post you will observe the process. There may be statements in this article or in other articles here, which affect your mind in such a way that you change your attitude, desires, or the way you perceive your life and your expectations of moving forward in life. Therefore, reading this blog is also a kind of hypnosis!
The power of self hypnosis can help you bring about profound change, healing and positive growth in yourself ~ Dr. Emmett Miller
Hypnosis is a normal function of the mind and body that you can tap into and use more deliberately to your advantage. It can be used to bring positive change into your life. Plug your life into the movie, forge forward. Read your idea book of life, imagine your ideal self. Learn to create the hypnosis zone daily for your benefit.
Daydream about being and doing as you wish to be, and do. Put yourself into a the state of self-hypnosis and tell yourself, tell your subconscious mind, how you want things to be. And be it. Learn to be the best you can be. Change what needs to be changed. Just let it happen. Stop the conscious struggle.
Hypnosis can help you to learn better. It can clear blockages that you may have accumulated over the years. It can get your conscious mind off that which is getting in the way of being the best you can be. Hypnosis helps you to feel good about yourself. It builds your self-confidence and ego. It allows you to relax.
Many people have come to me for hypnosis, because they have failed exams, such as for nursing or the legal bar exam, and find that by going within and dealing with the obstacles that create their failure, that they are able to ace the test and reach their goal. Hypnosis can get you back on course, past adversity and allow your life to bloom.
You are only limited by your imagination. In fact you should notice that your creative powers should increase the more that you use self hypnosis, and your overall health and happiness will increase ~ Jon Rhodes
Imagine yourself walking into the exam room, joyful, happy and confident. Know that you will be able to access all that you have studied in its entirety, any thought stored in your subconscious, quickly, easily and without stress or strain. Know that you will be able to understand and navigate all parts of your test with ease. Complete your entire exam in due time without constant struggle and changing answers. Know that hypnosis works, because you see it improve your memory and give you a better attitude toward life and other people.
Hammer out a plan to improve your life. Forgive yourself and others for past issues. Shape your desires to succeed. Process the lessons of the past and move forward. Turn over a new leaf. Discover the miraculous true genius within yourself. Be all that you can be. Learn to feed yourself positive intent while leaving behind habits that have held you in bondage. Bend the way you have been into a new shape which allows you to harvest a better happier you from the garden of your mind.

About The Author: Tommy

Tommy has worked as a Spiritualist Medium in New England for over two decades and has served on many boards of spiritualist churches. He's an Energy Worker and Medium of uncommon ability who has trained with the best Mediums in the country. He's helped clients from all over the world receive detailed messages from Spirit Guides and loved ones in Spirit. His information is not only accurate but fast, which is something that clients truly value in the fast-paced world we live in today. If you'd like someone who can tap into your energy, tune into your higher self, and deliver all the answers you seek, you can find Tommy at PsychicAccess.com.