Tarotscopes March 2019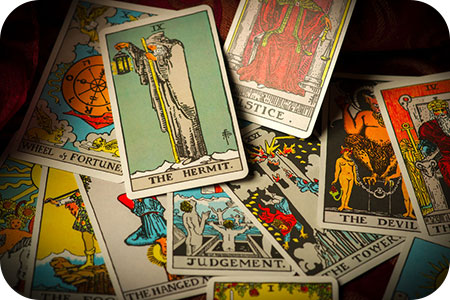 ARIES (Mar 21 – Apr 20)
Judgment
Time to "pay the piper" Aries. With this Major Arcana card there's no escaping what the Universe has in store for you. However, you should be left with feeling relieved and ready to face the future with confidence following this opportunity to finally overcome, resolve and put to rest what, or who, may have troubled you for some time. A new beginning is yours, take it!
TAURUS (Apr 21 – May 21)
Five of Swords
You may have won the battle but, unfortunately, not the war. Build on the initial success you've achieved in your endeavors by choosing the right words and forms of communication, as these will aid you in getting your point of view across to those who have turned a deaf ear until now. Perhaps the written word will do the trick where all other efforts may have failed thus far.
GEMINI (May 22 – June 21)
Three of Swords
March may hold a period of separation from someone you hold dear, which in turn leaves you feeling abandoned and alone. There may be three people in a relationship around you. Remember that two is company, three's a crowd. Be prepared to listen and take on board what your head is telling you, not your heart. Do what must be done to restore your inner peace.
It is the province of the tarot reader to move backwards, forwards, even sideways in time ~ Sasha Graham
CANCER (June 22 – July 22)
Three of Pentacles
Your new work project or relationship needs to be nourished and nurtured slowly this month. Therefore, whatever you do, avoid the temptation to rush blindly ahead. You're doing brilliantly, so be content in the knowledge that less speed more haste will bring you the prize you seek. Ideas will come easily to you, so always keep notebook and pen handy.
LEO (July 23 – Aug 21)
Six of Pentacles
Generosity is the key to March for Leo. This may relate to spending more time with those you care for most, but may have been neglecting, or someone who needs a helping hand financially. On the other hand, perhaps it's time to show some generosity to yourself? Why not book a short vacation break, arrange a massage, embark on a well-deserved shopping spree, or buy that new car you've had your eye on for a while.
VIRGO (Aug 22 – Sep 23)
The Hermit
Time for introspection. Use this month to focus inwards, to discover what really makes you tick. Look at your life and, if you don't like what you see, change it now. You may be drawn to learning, teaching, or mentoring others. This is the ideal month to plan the rest of your year, if not your life. No pressure!
LIBRA (Sep 24 – Oct 23)
Three of Wands
March may find you considering moving further afield. Perhaps you've been feeling a bit fed up with the same old, same old? Do something about it, before you become sucked back into the drudgery of everyday life. There is an adventure waiting with your name on it, and all it needs is for you to find it. Follow your dreams and don't look back. Travel by sea may be involved.
SCORPIO (Oct 24 – Nov 22)
King of Pentacles
Be confident in anything related to finance this month, as you possess the power to influence your monetary status in a major way. If you're seeking employment with a financial institution, seeking a loan or awaiting a sum of money, then wait no longer as March will grant your wish. Any minor health concerns will be successfully dealt with and your energy levels will rise significantly.
SAGITTARIUS (Nov 23 – Dec 22)
Ten of Cups
March blows in with the promise of peace, happiness and contentment in your home and those you share it with. Time spent together will bring you all even closer and counting your abundant blessings. You may take the opportunity to get away from it all for a few days, and the great outdoors may be just what is needed to restore you all, before returning to your daily lives. There may also be a welcome new addition to the family.
CAPRICORN (Dec 23 – Jan 20)
Six of Cups
Children will be your focus in March. These could be your own or the offspring of others. Perhaps you and others have organized a trip or expedition which necessitates a day or few days away from home and involves responsibility for the care and safety of youngsters? If so, fun and enjoyment will be enjoyed by all.
AQUARIUS (Jan 21 – Feb 19)
Knight of Pentacles
Things will finally settle down – just as you'd hoped! You'll be relieved to know that no nasty surprises lie in store for you this month, only balance in all areas of your daily life. However, you may need to put your foot down firmly in response to the behavior of someone around you who is 'playing up,' as they are merely seeking attention. Being firm now will prevent similar behavior in the future, so do what you feel you must. You're doing the right thing.
PISCES (Feb 20 – March 20)
Five of Cups
No use crying over spilled milk. What's done is done. By all means shed a few tears over the regret you feel, but refuse to wallow in self-pity. The Universe may have just saved you from yourself. So, pick yourself up, dust yourself down, and focus on the future. Leave the debris of your failed relationship, goal, or dream, behind you… where it belongs. Trust that whatever lies ahead will soon have you smiling again and thankful for your lucky escape.

About The Author: Cathi

From her seaside home in England, where she can fully focus on her gifts as a Psychic and a Medium, Cathi has nourished her natural abilities and built a life that feeds her calling. You may have seen her on Sky Channel's Psychic Today, perhaps read her articles in Fate and Fortune magazine, you may have read her column in BFG Magazine, were perhaps inspired by the motivational/inspirational quotes she's written for a US psychic website, you may have read her blog or monthly Tarotscope on her own thriving website, maybe you attended the yearly London Tarot Festival in June where she actively provides readings, or perhaps you were fortunate to encounter her at one of the many private events and corporate functions where she's asked to appear. If you've sampled Cathi in any one of these venues, or elsewhere, you'd agree with her many devoted clients that her amazing insights come from an ethereal place that only a true Piscean, like herself, can inhabit. If you'd like a reading with this highly attuned, compassionate and accurate reader, you can find Cathi at: PsychicAccess.com.