Gemstones To Attract Love And Romance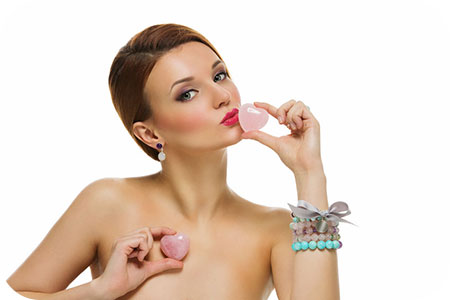 If you are single and looking, do yourself a favor and experiment with gemstones in your search for a life partner. Let's face it, in the game of love we can use all the help we can get, right?
Gemstones have been used since ancient times for healing and metaphysical purposes. For instance, Stone Age women would wear gemstones to improve their fertility, while Stone Age men wore gemstones for personal protection.
The Egyptian queen Cleopatra, was fanatical about emeralds, which she wore for fertility and eternal youth. And Aphrodite, the Greek Goddess of Love, is traditionally associated with rose quartz, because of its ability to attract love and romance.
To attract or manifest love, gemstones can be used in a variety of practical ways. They can be worn as jewelry, or placed around the bedroom. They can also be used in spiritual practices, such as meditation or ritual.
The most popular gemstone used in matters of the heart is rose quartz. Rose quartz promotes love in all forms, and it also aids in forgiveness, patience and calmness.
Another stone that is said to aid with matters of the heart is ruby. Unlike rose quartz, ruby particularly deals with romantic love, as well as love of self. Ruby is also associated with devotion and happiness. While rubies can be quite expensive, one can buy the uncut rough stones, which dramatically reduces the cost of this gem.
I tried rose-quartz rituals to improve my love life – and it worked ~ Hannah Hickok
Moonstone is another gemstone that must be included in romantic matters, as its energy promotes the attraction of love and affection. Moonstone is one of my favorite gems to wear as jewelry, because it is also known for its protective energy and it aids in the balancing of emotions. I am a Taurus, after all! 'Bulls' need all the help we can get to balance our energy.
Green Jade is one of the most precious stones of the East. Known to strengthen love and happiness, it has been called 'the stone of the heart.' Green Jade is also associated with dream fulfillment and to promote long life. Kunzite is the stone of good fortune, and can aid in the finding of true love. Kunzite is also the stone of peacefulness and harmony. I like to keep Kunzite close when I am faced with challenging tasks, during which peace and harmony would be beneficial.
You know how everyone has always thought that Cupid has an arrow? Well, folks, we've been wrong all along. I swear he actually throws loving crystals and gemstones at people to forge his love connections ~ Emma Mildon
Garnet is another gemstone associated with matters of the heart. It is especially believed to increase sex drive, and improve feminine sensuality. With its fiery red color it is associated with passion, love and romance. Garnets were worn by noble women during King Richard's reign, to publicly show that they wish to be married.
Gemstones are fun and exciting to learn about and utilize. I have personally found, to benefit from the different energies in gemstones, it is best to have their energy around constantly for at least six months. I like to wear some as jewelry, keep some in my purse, some in my automobile, and I also place different stones under my pillow and mattress.

About The Author: June

June is an experienced and gifted reader in Indiana, near Lake Michigan, who enjoys the peace of the woods and the energy it provides her. A double Taurus, led by earthy and dependable Venus, she will help you to navigate your life on a steady course. Many come to her at a crossroads, not knowing which way to turn, or even how to move forward. Not only does June lift the obstacles and show you your path, but she also helps you to embrace the positive light that will guide you. She's helped numerous people in all areas of life for the past fifteen years, and has honed her abilities as an active member of her Spiritualist Church, by helping others in her congregation. For many years she's enjoyed a front row seat to witness all the events play out, just as she was shown by her Guides. June inherited her gifts from the generations that came before her, but she also finds new skills popping up unexpectedly with clients. Mary and Suzie are the Spirit Guides she works with, and she delivers their messages in a style that suits each of her client's particular needs that day. June has been a high-rated reader on the internet, as well, and enjoys the accessibility the internet provides, so people can easily find her. If you'd like to find a highly accurate reader who gets her messages out quickly, and who can raise you up high on your path, you can find June at PsychicAccess.com.