I Thank My Lucky Stars!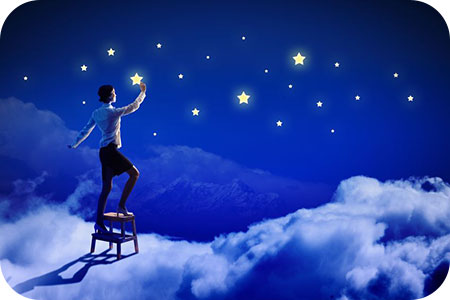 The recent holiday season and the dawn of a new year brought with it many musings of love and gratitude. It made me contemplate how truly blessed I am and thank my 'lucky stars.'
To begin with, the holidays has been a very special time for me. I was able to spend some time with family members who live close by me, connect with those who are far away, and welcomed new people into my circle of friends. A beautiful new baby girl was also born into the family. The children and young people in my family are all original and smart, and my family is continuing the tradition of passing our knowledge to them. I feel so blessed to have these wonderful people in my life.
Looking back on 2018, I also thought of all my clients who call me for readings on Psychic Access. They are all very special beings with unique qualities and situations. As I strive to read their situations and provide the best and most coherent insights to their questions from their spirit guides, and as I consult my divination tools for more clarity, I humbly work hard to give them the honest, truthful answers that will help them the most. I feel blessed that they choose me to read for them.
My thankfulness for these blessings were especially deep around the time of the recent Winter Solstice. As I reflected upon this magical and special time of the year, after the harvest seasons, I slowed down to celebrate and give thanks to the special people around me at home, work, and socially, near and far.
That star, on starry nights, the seaman singles from the sky to steer his bark forever by ~ Thomas Moore
The Winter Solstice is a special time of the year that carries deep esoteric meanings that has influenced spiritual traditions all over the world. The Celestial Star of the season is the North Star, Polaris, which is situated at The North Pole. It never moves very much and all the stars rotate around it. In ancient times, desert caravans and sailors followed this fixed point of directional reference. North is the focal point of direction on a compass, and today the star still helps us find our way when we do not have a compass. The Three Wise Men in the Bible, with their gifts of gold, Frankincense and Myrrh, were guided by the North Star to find the much-prophesied baby Messiah Jesus.
My musings on the North Star, in turn led to my musings about the extra special qualities, blessings, attributes and cautions we are all born with because of fixed stars. The fixed stars can be found in everyone's natal chart analysis. Each star has special qualities and lend extra attributes that are important to understand in a chart.
For example, returning to the North Star as an example, Polaris can give spiritual powers and from them much respect can be gained. Astrologically, The North Star has the influence and attributes of Saturn, Venus and the Sun. To those born under its influence, this star brings blessings of great spiritual powers and leadership, but also the danger of illness or physical problems.
Luckily Polaris is exactly conjunct Alpha Orion at 28 degrees Gemini, so those born under the influence of Polaris are also influenced by Alpha Orion, which is one of the most fortunate of fixed stars. It is frequently prominent in the charts of those who have had major success in life, and brings wealth, honors, fame and fortune.
Like the Magi who followed a bright light in the sky seeking the deepest understanding, so do we seek our own north star and wisdom ~ Debra Silverman
The fixed stars can be a great gift or warning of afflictions and danger. They lend their influence on the signs, especially affecting ones Sun sign, the Ascendant, and 10th House placements by degrees. Those who have a fixed star conjunct or on these points in a chart are strongly affected by it. It is a good idea to have a gifted psychic astrologer read your chart, to view these attributes to interpret and psychically observe how exactly their influence will affect your life. Thankfully there are many lucky stars.
Most stars are mixture of fortunate and unfortunate attributes, but most lean more one way or the other. Learning about your own can lend you confidence help you to understand that you do deserve the special blessings in your life and warn you to avoid dangers and other afflictions.
Whenever you receive great blessings you can thank your lucky stars! May the new year bestow blessings and bliss upon you and yours.
About The Author: Lelia Star

A single mom, fashion designer, fitness trainer, and a natural born Intuitive, Leila lives a full and rewarding life in Texas. Her psychic practice includes a growing clientele that includes several famous celebrities. She's mastered many metaphysical tools, including: Tarot, Runes and Astrology, and has been using her natural Clairvoyant, Clairaudient and Clairsentient gifts for more than thirty years, gifts that go back at least three generations. She can easily tune-in to a client's energy, addressing their most urgent issues and needs. She's always been a strong advocate for women, helping her clients to feel good about themselves, on the inside as well as the outside. Not only is Leila still very active in the Goddess community, but she's a gifted mystic who can communicate with loved ones, interpret your dreams, perform guided meditations and accurately communicate your astrological path. If you'd like clear insights on your past, present and future that will help you embrace your most confident self, you can find Leila at PsychicAccess.com.