Treat Yourself During The Holidays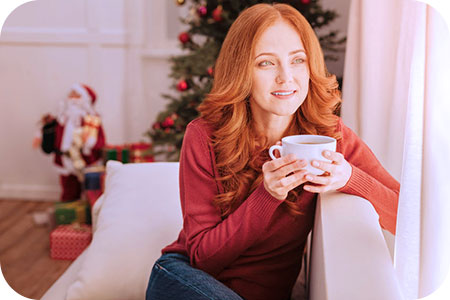 The holiday season is a time when many of us are focused on family and friends. I have always found that this time of year brings joy, but also a little sadness. Feelings of grief tend to peak around the holidays, as we notice empty chairs at large family gatherings, or wrap gifts and find old tags with a loved one's name on it. It cannot be avoided, but feeling grief or loss of a  loved one around the holidays is also a reminder of the depth of our love for that person.
The stress of the holidays can be quite overwhelming. We are worried about 'having enough,' or purchasing the 'right gift.' Did we forget something, or someone? At times we tend to go overboard and then regret it later. If you're like me, you'll set a budget limit per family member, and then find you've far surpassed it with one, and then struggle to make up the difference for the others!
For example, my daughter is probably the easiest person in the world to buy for, and I always go overboard with her gifts. Then I have to scramble to find things for my son to equal the value and number of gifts.
Some of us may also find ourselves in situations where we don't have enough financially to even participate in the typical holiday extras. In this case, guilt and embarrassment may set in and totally negate the whole meaning of the holidays! Many of our regular living expenses also increase dramatically this time of year, adding financial and emotional strain.
Yet, despite all the emotional and financial challenges of the season, I believe it is a good idea that you treat yourself a little during the holidays! It may seem a little contradictory, you might be thinking, but I'm serious. At this time of year, when stress levels and emotions tend to peak, it is imperative that you find a way to treat yourself. It doesn't have to be expensive. Heck, it doesn't even have to cost you any money.
At Christmas, tea is compulsory. Relatives are optional ~ Robert Godden
Here are some really simple ideas to achieve this.
Take Some Time Out
You can take 20 minutes to treat yourself to a nice cup of coffee or tea. Sit in silence, or sit with music on. Stare at a blank wall (if that calms your mind) or take in the beauty of the outdoors, or the holiday lights around town. Or carve out some time by yourself to take a nap, or to mediate. Finding that quiet time will feed your soul. And that costs nothing!
Wipe The Slate Clean
Treat yourself to some forgiveness. This could be forgiveness for yourself, for something you think you've done wrong, or forgiveness for someone who has wronged you. Either way, there is no cost involved. In fact, this sort of treat will actually improve your emotional (and even physical) health.
The holiest of holidays are those kept by ourselves in silence and apart; The secret anniversaries of the heart ~ Henry Wadsworth Longfellow
Release the emotions, wipe the slate clean. Forgiveness doesn't mean you have to forget, but it does mean you let go of the weight of an event that you can't change anyway. Forgiveness lets you stop living in the past, and be present in the now. It also opens up numerous possibilities for the future.
Go Have Some Fun
Treat yourself to being a kid again. Go skating or sledding. Try some coloring or drawing. Plan an outing with family or friends. Watch movies and eat popcorn. Treat yourself to something that feeds, or heals your soul. It doesn't have to cost anything. It is a guilt free gift to yourself that is worth more than you realize.
About The Author: Angie

Angie is an accomplished Medium, Intuitive and Empath, speaking with Angels, Spirit Guides and those who've crossed over. She's situated in the New England area, and has been providing highly accurate readings for her clients for over twenty-five years, and is sought after for psychic parties and dinners. What makes her particularly fascinating is her unique talent with Art Mediumship, in which she combines drawings and messages. She's trained with many mentors locally and internationally, and has connected with exactly the right teachers at just the right time. Angie is also a teacher, offering Spiritual Gift and Mediumship Development classes, and she is Certified in Akashic Records and Pranic Healing. If you'd like to be introduced to your best spiritual self, while receiving detailed answers from a gifted and compassionate Card Reader and Medium, you can find Angie at PsychicAccess.com.


One Response to Treat Yourself During The Holidays