Uninjected Psychic Connection
Published
December 7, 2018
|
By
Jeffrey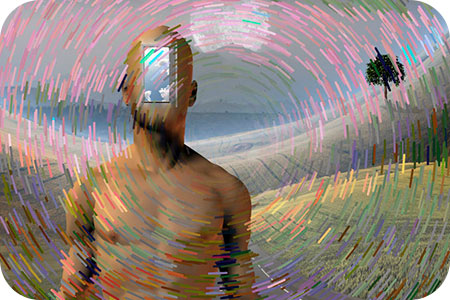 I was recently asked what it feel like to be able know things about people, without them telling me anything. "It helps me feel connected," I quickly replied. People are often awed about the things I pick up during psychic readings and conversations.
I try to keep it in perspective and remain healthy, so I continue working hard to not use my hyper-sensing skills as a means to have power over someone, or to get attention, or to be awed without people understanding that it's the connection between us that's powerful. I just am able to facilitate this connection, nothing more. If people want to learn how I do this, I offer to teach them how 'I do it' and help them figure out how they can do it in their own way.
I was speaking to a friend on the phone recently, and she told me that the mother of a mutual friend, and even closer friend to her, had passed away. After asking her to share my condolences with him, I picked up something from who I thought was the energy of his mother, and asked her to share it with him. But he didn't appreciate it. He said he was bewildered, and I felt horrible.
I then took the opportunity to self-reflect on why I had to share it. I didn't have to share it, but I did. Why? I came to the conclusion that I wanted him to connect to his mother through me. It sounds altruistic enough, but it's the "through me" part that's not healthy! I wanted to be part of his healing, but I injected my ego, rather than reacting to what he really wanted. I didn't really listen or pay attention his true needs.
Listening is an art that requires attention over talent, spirit over ego, others over self ~ Dean Jackson
I'm being transparent here. The only way I'm able to, at this point, make sense of sharing messages from those who've passed, is that I'm actually picking up on the memories or energy of those that have passed. I realized that when I pick up this type of energy during a reading, the person has asked me to do so. I sometimes even ask permission before I share, because I want to be sure my client won't be traumatized if they are not ready to hear this energy reflected back to them.
But I didn't do this with our friend. I just jumped. Yes, I didn't really listen.
What's more, what happens if I don't open myself to this energy when I hear of a passing? Or even yet, what happens if I don't go into hyper-sensing mode whenever I'm around someone in any situation? What happens if I just listen? I can feel connected this way too. I do it all the time at work.
That said, when I'm tuning in to hyper-sense the energy around me, and those who are asking me to do so, there is a different kind of connection. A connection that often surprises me, humbles me, and moves me to cry joyfully.
Most people do not listen with the intent to understand; they listen with the intent to reply ~ Stephen R. Covey
I had just finished reading for someone when they asked me the question, "What does it feel like to be able know things about people without them telling you anything?" I picked up that his recently-passed father was saying, "You can do it." It was something that his father would say to him. I picked up a particular place this person was supposed to vacation to, before his father passed. He still wants to go and now will. Not because of the power of my suggestion, but because of the connection he has with his father that was reflected back to him. Like a mirror, if you will.
It wasn't hard to hold myself back from sharing any messages when he told me of his father's passing. I only shared my condolences. I'm happy he asked me to connect for him, because we both experienced tears of joy. Perhaps my assessing for power and attention is becoming a healthy habit.
About The Author: Jeffrey

Jeffrey provides readings from his home base in Westchester, New York, and has transformed from being a 9-5 Advertising Exec to a sought after Empathic Psychic Practitioner. With over twenty-five years of experience under his belt, he has been asked to read at parties, in parks, restaurants, cars, and just about everywhere else! At the age of six, he was reading his own four fingers to give the grownups some information they sorely needed. He has since become A Reiki Master, a Hawaiian Shaman and a teacher who has developed training courses for Mental Health Agencies and local community programs. Jeffrey lives his life where his curiosity leads him and never judges others! If you'd like to have an unforgettable reading conducted in a safe environment that nurtures transformation, joy and growth, you can find Jeffrey at PsychicAccess.com.


Posted in
Afterlife
|
Tagged

Afterlife, bereaved, clairaudience, claircognizance, clairvoyance, communication, compassion, connection, death, ego, evidential mediumship, extra-sensory perception, ghost whisperer, grief, medium, mediumship, mediumship reading, parents, professional psychics, psychic abilities, psychic attunement, psychic awareness, psychic medium, psychic reading, Psychic Readings, reading, self-expression, sensing, sixth sense, spiritual messages, trauma, validation
One Response to Uninjected Psychic Connection
This site uses Akismet to reduce spam. Learn how your comment data is processed.